I really love the message of the Moxie Girlz because they emphasize being true to yourself and the ability to achieve your dreams. There are enough fashion dolls that focus on just that – fashion – but these girls go beyond that. I also like that they don't seem so unrealistically proportioned like some other dolls I used to play with as a little girl.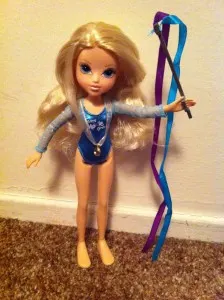 This is Avery, the gymnast from the newest Moxie Girlz Sportz line. Each girl represents a different sport, wears the appropriate attire, and encourages girls to be involved in sports. The Moxie Girlz are champions and our daughters can be too – they shouldn't be afraid to get physical and competitive in sports. I picked Avery because she represents gymnastics and Rissa has been showing interest in this area. There are also Moxie Girlz representing soccer, tennis, boxing and judo!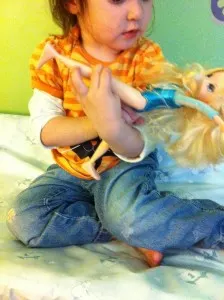 I like that Moxie Girlz have minimal small parts, so I do let Rissa play with Avery even though she's only two years old. On this particular doll the pieces to keep an eye on are her feet (they detach), the ribbon, and the gold medal. I noticed that her legs were more flexible than our other Moxie Girlz dolls – probably do to her gymnast skills! Rissa likes to make her do the splits and do flips in the air!
I really like to provide my daughter with a range of toys and certainly appreciate ones with a positive message. For little girls interested in sports, I think these are especially great to give to them to help reinforce that girls can be athletic too!
_____
Disclosure: We received this doll for review; no other compensation was provided.