It didn't take long for me to figure out that music helped calm and soothe Rissa as a baby. It still does, just in different ways. She definitely seemed to like hearing me hum and sing while rocking her to sleep. Even outside of sleepy time, if she was fussy, music (and white noise) helped. Unfortunately I pretty much only had my phone as a portable music source throughout the house. She didn't respond the same to music playing from baby gear such as her swing.
I'm expecting her baby brother to be similar, though his new crib toys have better sound quality than the stuff Rissa had just two years ago. But, I think he will like his Cuddletunes bear the best!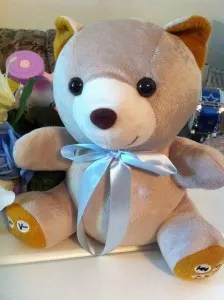 Kids love stuffed animals (at least my daughter does!) and music so combining them makes sense, right? This bear does just that. It's soft and cuddly with a blue, pink or yellow ribbon and can be loaded with MP3s. Ours came preloaded with a few songs, but we added some of our own too. It's really easy to use and even comes with a USB cable to plug into your computer. It shows up like a flash drive, making it simple to load MP3s onto it. You can add songs, audiobooks, or record a message yourself! It holds 1GB and is a great way for family members who live far away to give a personalized gift in their own voice.
The controls on the bottom paws adjust the volume and change tracks. I liked that they were actual buttons I could hear click and not overly sensitive to light touches. It can get pretty loud, so you'll want to keep an eye on your little one to make sure they don't turn him on to blasting. Rissa wants to play with him, but we keep reminding her he is a present for her little brother.
This will be a great toy for Baby Z to take with on trips and something that will be loved for years to come, making it a great baby shower gift as well as a gift for any child.
Do you still have your favorite stuffed animal? Wouldn't it be awesome if it also played music?
______
Disclosure: I received a bear for review.