We received a fun climbing dome toy for review from Little Tikes.
Everyday my kids are learning, developing, and honing their skills. Sometimes we're encouraging specific ones with directed play, but most of the time it just happens naturally over the course of our days. I don't even always realize it!
We think it's important for our kids to stay active, which is why they participate in gymnastics and dance class. It's also why we get them outside for walks and outdoor play. Although they don't usually come with me when I run, they know what I'm doing. Getting those bodies moving is important for their health and development.
It just so happens that my kids rarely stop moving unless they are sleeping.
Outside play helps them work on gross motor skills like running, jumping, and climbing. Rissa also likes to skip, hop, and gallop. Xander is really into pushing and pulling lately. He likes to rearrange everything and move the wagon around (with or without Rissa in it).
Rissa has learned to pedal a trike, but Xander doesn't quite know how yet. He keeps trying! He is getting the hang of ride on toys though.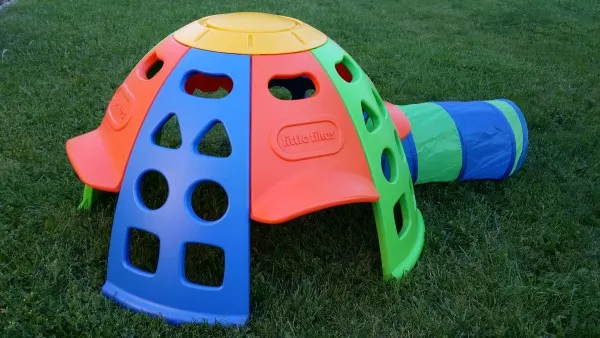 Both of them LOVE to climb. Mostly they like to climb things they shouldn't when they are inside the house. Going to the park or local school playground gives them a chance to climb structures more safely. With the Little Tikes Tunnel 'N Dome Climber they can do some climbing in our backyard. Please note that it is highly recommended to put this play structure on top of a safe surface (like the cushioned surface many playgrounds now have) in case of falls. We do not have this for ours at this time.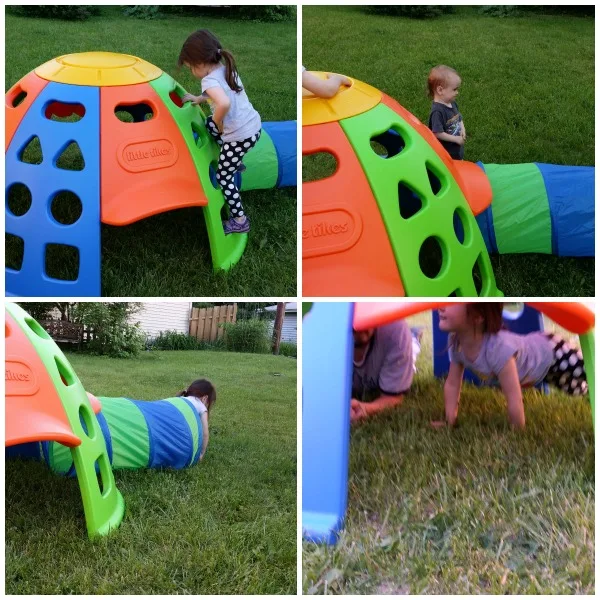 Rissa easily climbs to the top and enjoys hiding from her brother underneath it. Xander has made great progress and is able to climb most of the way by himself. Rissa was excited about the tunnel at first, but it kept coming off of the dome. I was disappointed that the tunnel was a detachable fabric one. We can't let it stay outside or it will get wrecked. I wish it was part of the dome and made from the same material. So, we don't really use the tunnel. It's hard for the kids to resist climbing the dome though. While I keep an eye on them, I'm relieved that it isn't as high as the playground structures in case they fall.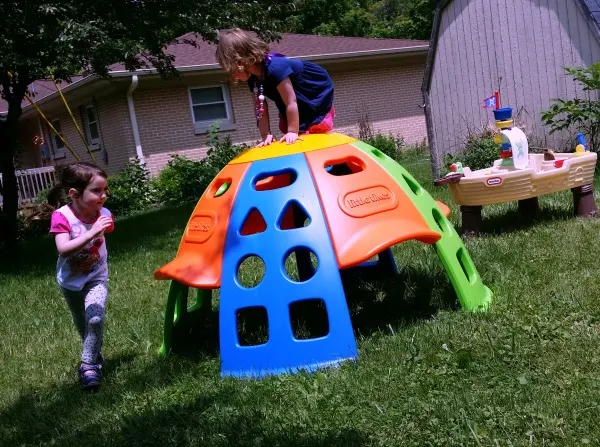 What are your favorite outdoor toys for developing gross motor skills?