I loooove easy smoothies like this pineapple banana smoothie recipe. I might like milkshakes even more, but smoothies are always a hit in my house. The kids think it's fun to help fill the blender and drink through fun straws.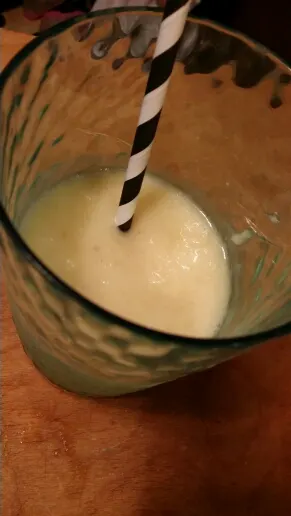 When Rissa was younger, I made Peanut Butter Banana Avocado Smoothies a lot. Or Strawberry Banana Avocado. I've experimented with ingredients, but they aren't all winners. Most are delicious, but some are tough to swallow.
The other morning I woke up kind of crabby. Waking up to the kids jumping around me on the bed really doesn't please me. I gave them breakfast then made my pineapple banana smoothie, but then they kept begging for some of it.
Why do kids refuse to eat their own food but steal from their mother's plate all the time? Or is that just my kids?
Anyway, a few days ago I accidentally opened a big can of crushed pineapple. I thought it was chunks and couldn't use the crushed. I dumped the whole can (juice too!) into a container and stuck it in the freezer. Last night I put it in the fridge to defrost a bit.
I busted the slush up with a spoon, poured it into the blender and added two sliced bananas. It didn't take long to blend.
The banana flavor is subtle and helps smooth it out. I like pineapple so I thought it tasted great. Rissa took a sip, smiled and walked away. That usually means she isn't too thrilled, but it tasted ok to her. Xander, on the other hand, didn't want to give it back to me!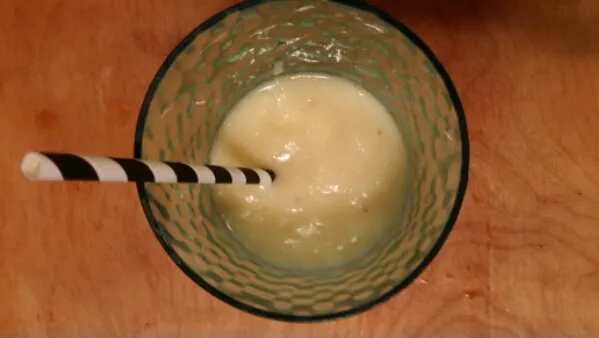 Easy Pineapple Banana Smoothie Recipe
Ingredients:
16oz can crushed pineapple and juice, slightly frozen
2 medium bananas
Directions:
Put the crushed pineapple and juice in a freezer safe container. Freeze until slushy. Thaw if needed. (Mine was solid. Thawing overnight in fridge was perfect.)
Slice bananas.
Add everything to blender and blend!
This made enough for two large smoothies or four small smoothies. I drank a large one and froze the rest to enjoy another time.