I'm still recovering and catching up from all the family stuff last week. We had Brian's grandma's funeral last Wednesday and then we went out of town for several days for a family reunion. I wasn't sure what to expect, to be honest. I knew it was relatives from his grandma's side of the family, so I met a few at the funeral. Otherwise, I was well aware that I wouldn't know very many people.
Family Reunion
As it was, I met about 40-50 people! (Please don't ask me everyone's name and connection!) And you know what? I had fun.
Rissa had fun too. She was the only baby there for all 3 days of gathering. 1 baby was a couple weeks older, the other a couple weeks younger. Rissa did very well and was passed around a fair amount. She didn't protest (much) either. The majority of the time we were on a family member's farm who has horses. Since we were outside nearly all weekend, I ended up with a sunburned forehead. Rissa did not get burned (yay for the MelanSol!) though she did get a few mosquito bites.
Horses
It was an experience to have Rissa around so many non-cat animals. There was a particularly friendly dog that she got to pet often. He gave her puppy kisses, she poked him in the eye, he kept coming back for more… and before we left she leaned forward to kiss his nose! She also got to see horses. And not just see them…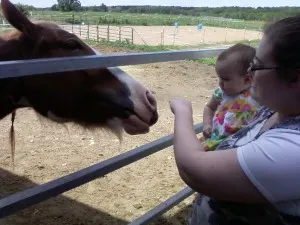 She got to touch them!
And get pulled in a small carriage!
This was definitely fun for us both. Now if only I knew how to ride….
Breastfeeding
The other part of our adventure was breastfeeding. I knew I'd have to feed her quite a bit around everyone and didn't want to deal with anyone having an issue. The first day was pretty easy to just put my shirt over her head. I knew she'd be distracted otherwise. She doesn't normally like being covered and tried to push it away, but I played peekaboo with the neckline and she settled in. At times I just fed her like normal, but I did put her inside my shirt quite a bit throughout the weekend. This did come in handy in the cool evenings when she was sleepy.
My most memorable moment (besides the horses!) was near the end of the weekend. One woman – Irene, I believe – was making her rounds to say good-bye. Rissa was nursing while napping.. in my shirt.. and Irene bent down to hug me. She told me she was glad to see I was nursing my baby.
I felt a sense of relief I hadn't had all weekend. I couldn't help but wonder what others may have been thinking even though it shouldn't have been a worry at all.