This post contains Amazon affiliate links.
Holiday baking can be fun, messy, and time consuming. As much as I love making cookies, it takes over my kitchen completely. Sometimes, I'd rather make quick and easy holiday desserts, like Christmas S'mores, especially when I can enlist the kids' help. (I'm serious, I'm working on letting go when they ask to help in the kitchen.)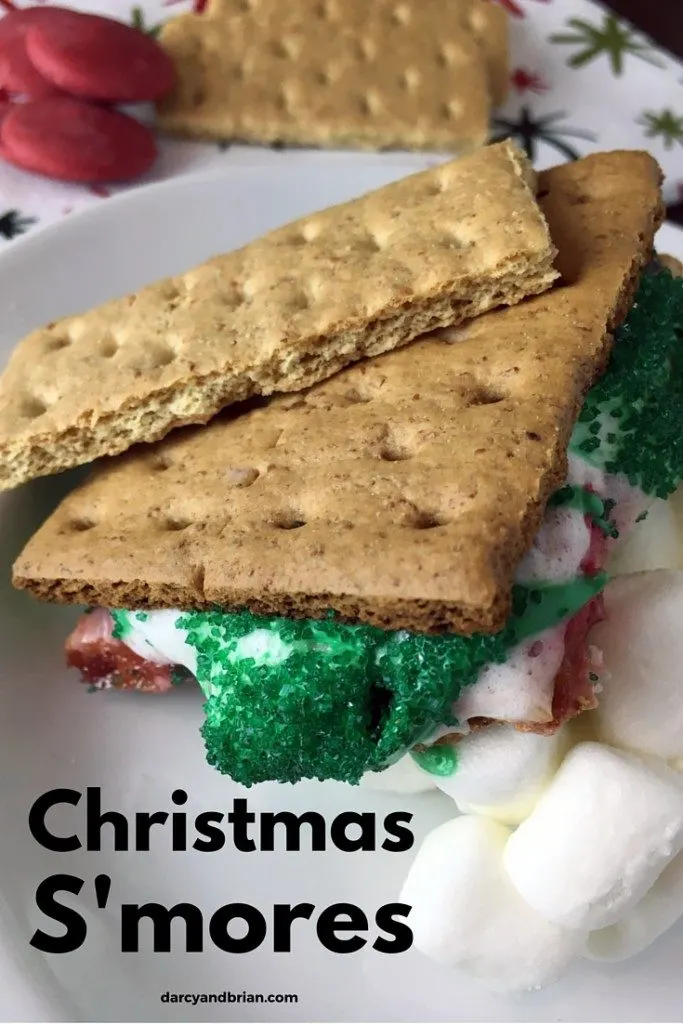 When I think of smores, I usually think of campfires and marshmallows roasting (and sometimes catching fire) over the fire pit. Once I discovered I could make them any time of year in the microwave, I thought that was amazing. Heck, I'm sure Rissa would be excited if she knew because she knows how to work the microwave!
Well, I promise you won't need to build a fire to make this Christmas S'more recipe. It's easy, fun, and delicious. Start a new tradition and leave some of these out for Santa.
Easy Christmas S'mores Recipe
Ingredients:
1 cup Wilton Dark Green Candy Melts (or you may use the white ones and mix in green and blue food coloring after melting to get the shade of green you want)
1 cup Wilton Red Candy Melts
4 cups Mini Marshmallows
32 Graham Cracker Squares (makes 16 sandwiches)
4 Tbsp Red Sugar Sprinkles
4 Tbsp Green Sugar Sprinkles
Directions:
Preheat your oven at 350 degrees Farenheit.
Arrange half of your graham cracker squares on a cookie sheet.
Place approximately 5 red candy melts on each graham cracker.
Add a spoonful of mini marshmallows on top.

Bake them in the oven for about 5 minutes.
Melt the green or white candy melts. You may use a Wilton Chocolate & Candy Melts Melting Pot to heat your candy melts if you have one. Otherwise, the microwave and a microwave safe bowl can do the trick. I heat them up in short intervals, stirring in between. Microwave the candy melts at 50% for 20 to 30 seconds, stir, and repeat until completely smooth. Do not over heat.
If you are using the Wilton White Candy Melts, now add green food coloring, stir, and then add blue coloring to achieve the correct color.
If your candy melts become too thick, add a little coconut oil to thin.
Drizzle the melted green candy melts over the marshmallows.

Add the remaining graham crackers on top.
Decorate s'more by sprinkling red and green sugar on the edges, or pour sprinkles in a shallow bowl or dish and dip the sides into the colored sugar.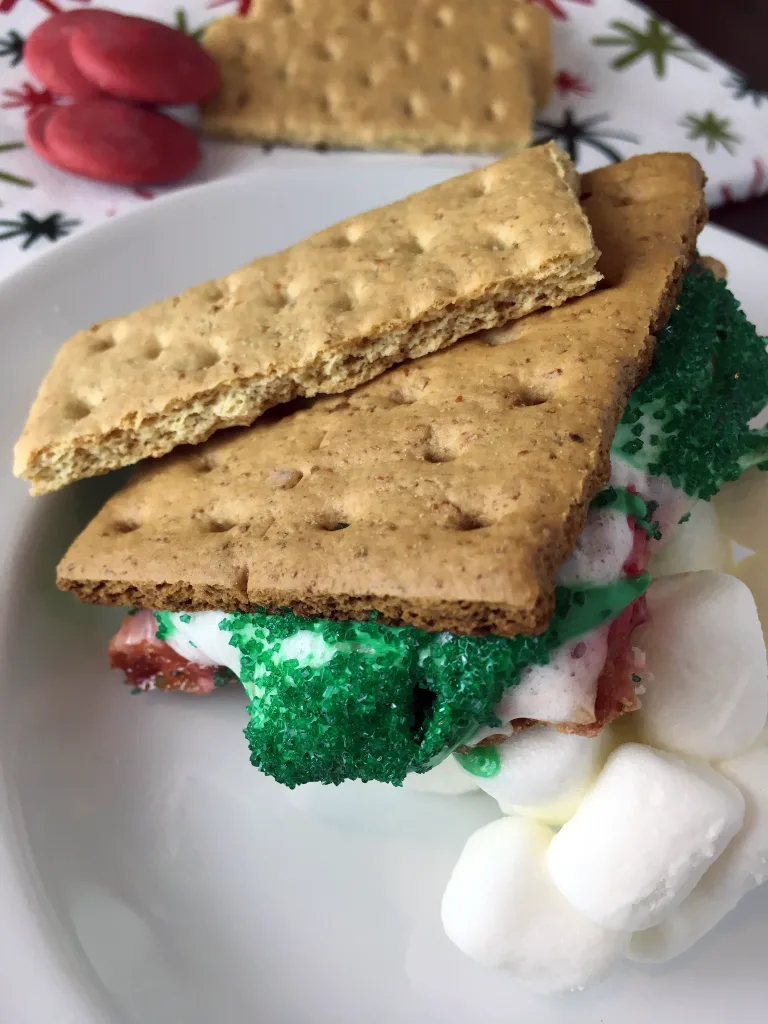 Eat and enjoy! Now the kids will feel ready to camp out in the living room and wait for Santa.
Looking for more holiday dessert ideas?
Gingerbread Man Rice Crispy Treat