Do you love chicken? We do! We often prefer to cook using boneless skinless chicken breasts but they can get expensive. Good thing I found out about a way to buy natural chicken in bulk at wholesale prices. Hello quality chicken and savings! I was really excited at first until I started to wonder what exactly I was going to do with 40 pounds of chicken.
40 pounds of chicken for less than $70… would we get sick of it? Would we use it all up in time?
To keep us from getting bored after the 5th pound, I rounded up a bunch of chicken recipes to keep your taste buds happy!
Oh right – you want to know where I got all this chicken, don't you? Zaycon Foods offers a few different types of meats for sale in bulk at events across the United States. The Chicken Sales Event only happens twice a year. I received an email alert about the event, placed my order online, then on the event day we drove through the pick up line. Cases of chicken went from the truck straight into people's trunks. It was a really smooth and easy process.
Zaycon Foods offers 100 % natural chicken with no added hormones, additives or artificial ingredients that comes directly from the processor and has never been frozen.
Once we got home we donned gloves, separated the breasts into Ziplock freezer bags, filled up our deep freezer. The toughest part was deciding how to cook it all. At least I found out that frozen chicken is safe to use without an expiration date. It is recommended to use it within 9 months of deep freezing for quality reasons only. Just make sure to defrost it properly!
Basic Slow Cooker Chicken Recipe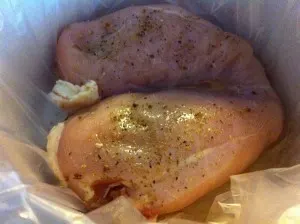 Not sure what you want to do with your chicken but want to have some cooked up and on hand? I like this method for easy shredded chicken but you could just cut it up instead.
You'll need:
2 Chicken breasts

1 cup chicken broth

Spices
Add chicken breasts to slow cooker and pour in chicken broth. Add some spices to the tops of the breasts (I used a poultry grill seasoning). Cook on low for about 5-6 hours.
It gives you some options for use in other meals!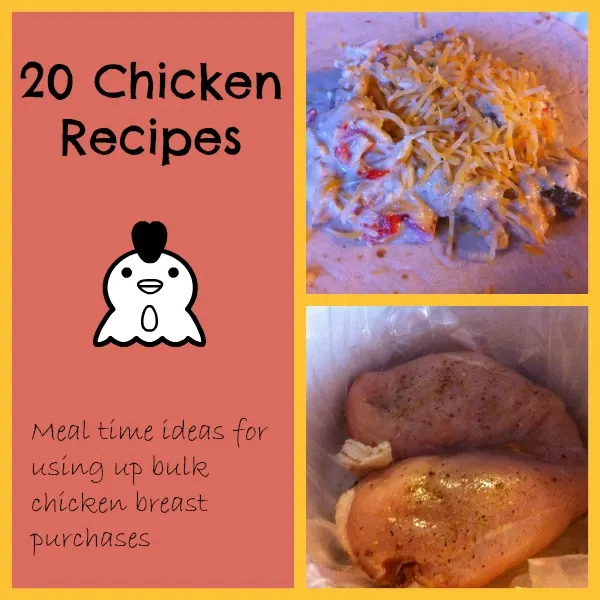 20 More Chicken Recipes
More great chicken recipes! Some may work better with whole chickens or parts, but most can be adapted for breast only.
Slow Cooker Cheesy Chicken

by Budget Savvy Diva (We love this recipe! I changed up the spices a bit but it's yummy over rice or noodles and even in tortillas!)

Slow Cooker Broccoli Chicken Alfredo

by Life With 4 Boys

Chicken Taco Casserole

by Six Sisters' Stuff

Granny's Secret Fried Chicken

by Green Eggs and Spam

Panko Chicken Nuggets by Captain Fussybuckets
5 Ingredient Slow Cooker Roast Chicken by The Frugalette
Slow Cooker Pineapple Chicken by The Frugalette
Slow Cooker Chicken Tortilla Soup by East 9th Street
Cheesy Chicken (baked in crescent rolls yum!) by When is Dinner
Chicken Pot Pie by And the Little Ones Too
Honey Sesame Chicken by And the Little Ones Too
Chicken Soft Tacos with Creamy Salsa Verde Sauce by Newlywed Survival
Slow Cooker Cranberry Chicken by Newlywed Survival
Chicken Broccoli Mac & Cheese by Views From the Ville
BBQ Chicken Pizza by Views From the Ville
Chicken Piccata by Views From the Ville
Green Chile Chicken Posole Sobrecitos by Thrifty Ninja
Chicken Salad by Midwestern Moms
Crock Pot Chicken Marsala by Naptime is My Time
Chicken Caesar Salad by Naptime is My Time
Yes, these recipes will really help vary up 40 pounds of chicken, don't you think?
Do you have a favorite chicken recipe?
_____
Disclosure: We received credits to order the chicken from Zaycon Foods in order to conduct our review.