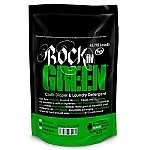 When I got pregnant, I knew I was going to need different detergent for Rissa's clothes. I didn't know much about what was in detergent – what was safe and what wasn't. I bought brand name free and "baby" detergents. Once I started cloth diapering, my research concluded that those weren't ideal for washing diapers. I kept hearing about Rockin Green:
Rockin' Green is made of safe, phosphate free ingredients which makes it good for the planet and gentler on your little ones. Everything is made with love, and put to the test every single day on my own families diapers and laundry. So you know that I expect only the best from everything that I send out the door.

Ingredients: sodium carbonate , sodium percarbonate, natural chelating agents, sodium sulfate, biodegradable surfactants, natural fragrance oils (if scented is chosen)

Rockin' Green is free of dyes, enzymes, whiteners and brighteners. So you can rest assured that it is safe for all diapers. You don't have to worry about repelling or buildup with Rockin' Green. And you only use a small amount with each load of clothes, so it rinses clean.

-Taken from their FAQs-
I first bought a sample of Rockin Green with my first cloth diaper order. It seemed ok, but I didn't have many diapers, they were new, and the packet only had a couple loads worth. I bought a couple bags (and won a bag!) and have been using it since I started cloth diapering in January of this year.
The scent is pretty faint and is to be enjoyed as you scoop. I've tried Bared Naked Babies (unscented), Lavender Mint Revival, and Motley Clean. I didn't realize at first that it doesn't scent the laundry – but it's not supposed to! It's clean rinsing and gets outta there. Although we have hard water, I've used their Classic Rock formula with success. (We have a softener, so that might make a difference.) I've also used the Hard Rock formula.
I keep feeling like a couple tablespoons is not enough, but it is! I'm sort of amazed that I'm only halfway through my second bag. Oh, and the bag is recyclable too!
At first, I only used it on the diapers, but then I started washing our clothes and towels in it. I really do like it! It doesn't irritate Rissa or I – she rarely gets rashy. If she does, it's mild and clears up in less than a day. (Only once or twice did it take two days to clear up.) I don't have the stinkies with our diapers yet. I'm hoping we never will, but that's probably unavoidable at some point!
I did have to experiment with my wash routine to get the best results. I'm pleased with my routine now, which I've been using for almost two months (been cloth diapering for three months now! without issues. Even those super duper soaked night diapers come out smelling like… nothing.
It took me some time to realize that's what real clean smells like… nothing. (Or when wet, like wet towels!)
I do have some stinkies with our clothes, but pit stink has been a battle for awhile. I should soak those shirts overnight in Rockin Green… I haven't tried mixing the detergent up for other cleaning purposes, but there are other uses consumers have discovered. As a carpet cleaner, for example!
Besides being made of natural ingredients – making it safe for baby and cloth diapers – they have awesome rockin' names for their scents. That alone appeals to the metal chick in me!
Conclusion – I love me some Rockin Green!
** Buy Some! **
You can buy your own Rockin Green directly from them on their website or do like I do now and hit up Amazon (my affiliate link).
Giveaway over
______
** FTC Disclosure: I purchased my own Rockin Green as well as won a bag in a giveaway. Rockin Green agreed to sponsor the giveaway to go along with my review. I was not compensated in any other way for this post. The thoughts, experiences, and opinions included are entirely my own and may differ from that of others. I am not liable for any issues you may incur from use of said product(s).