THE FIRST DVD RELEASE OF THE NEWEST MY LITTLE PONY ADVENTURES!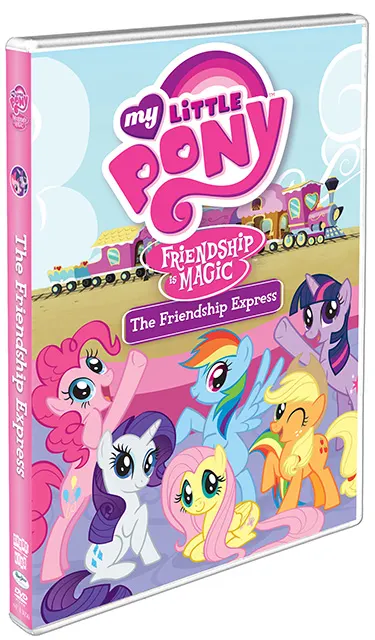 My Little Pony Friendship is Magic: The Friendship Express
Release Date: February 28, 2012
Synopsis/About:
My Little Pony Friendship is Magic: The Friendship Express will arrive on DVD on February 28, 2012, from Shout! Factory in collaboration with Hasbro Studios. Featuring 5 pony-riffic episodes, Friendship is Magic: The Friendship Express will also offerbonus features such as Meet the Ponies, sing-a-longs and coloring sheets. It will also include "Yipper Caper," the very first episode of the new Pound Puppies series.
In My Little Pony Friendship is Magic: The Friendship Express, the benevolent Princess Celestia, ruler of Equestria, selects unicorn Twilight Sparkle for a very important assignment – to learn about the most important magic of all: friendship. With her new friends, Applejack, Rarity, Fluttershy, Rainbow Dash and Pinkie Pie, Twilight sets out on amazing adventures, and they all learn what it means to be true friends.
The My Little Pony Friendship is Magic series is currently airing on The HUB.
My Review:
I am loving the return of some of my favorite cartoons from my childhood! I loved My Little Pony toys and show. They have a new look which is crisper, more colorful, and more anime-styled (you can see it in the eyes). I actually really enjoyed watching this DVD with Rissa. Maybe too much? I keep getting the theme song stuck in my head…
This DVD contains five episodes and several bonus features, such as sing along songs and the new Pound Puppies episode, Yipper Caper. (Yes! Pound Puppies!!):
Friendship Is Magic, Part 1 (Mare In The Moon)
Friendship Is Magic, Part 2 (Elements Of Harmony)
Over A Barrel
Hearth's Warming Eve
The Last Roundup
The first two episodes set the stage for the new series and introduces you to the characters. Twilight Sparkle is a bookworm and tries to warn Princess Celestia about the 1000 year prophecy of the Dark Mare. Twilight is surprised to be sent to Ponyville and instructed by the Princess to find friends. Through friendship, Twilight is able to save the ponies from the Dark Mare. I found Over a Barrel interesting as it dealt with the ponies of Appleoosa and the buffalo disputing over land use. It was quite political for a children's cartoon – which was unexpected. Hearth's Warming Eve is a holiday special focused on cooperation rather than feeding off of anger and fighting. Then the last round up teaches the importance of facing your problems rather than running from them and that your friends can help if you tell them what's going on!
Here is a clip from Heath's Warming Eve:
All the shows carry themes about the importance of friendship and communication. Almost any problem the Ponies face can be overcome by one or the other, but often a combination of the two. I think this is a good message for children. I like that no one is really "bad" in the end. They are able to redeem themselves or compromise in order to re-establish peace. The character development and story writing are quite good in all honesty. I wasn't really expecting that.
Rissa loved the sing a long feature, since it was all music. I liked that they included a full Pound Puppy episode. Their look has completely changed too, but it's nice to watch one and a great way to let parents know it's also available. While the Ponies tend to appeal more to girls, the Puppies are a great gender neutral option. The new Ponies aren't girl specific as the stories can be enjoyed by boys as well and they might like Spike, the baby dragon.
Where to buy: Available My Little Pony Friendship Is Magic: The Friendship Express

on Amazon!