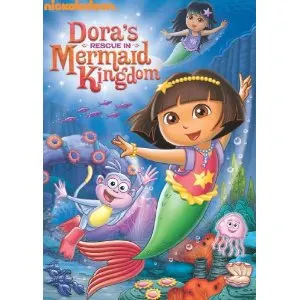 Dora the Explorer: Dora's Rescue in Mermaid Kingdom
Release date: June 26, 2012
Synopsis:
Dora as she returns to Mermaid Kingdom for an awesome undersea adventure! Plus, rescue Benny from Coconut Island and go on an adventure through a moonlit storybook world! Mermaid Dora and Sea Monkey Boots need help navigating through the ocean to help their friends.
Episodes:
Dora's Rescue in Mermaid Kingdom
Benny the Castaway
Dora's Moonlight Adventure
Ever since Rissa got her Magic Swim Mermaid she gets so excited to identify mermaids. She even tries to say it! It sounds more like "mimi" or "mi-may" but I know what she means. She's only shown so-so interest in Dora up until now, but this DVD caught her attention! She didn't respond to most of their prompts but she was pointing out lots of things to me like monkeys and coconuts. It's amazing how popular Dora (she's been around for 12 years!), but I can see why it is considered one of the top preschool shows. This is definitely my daughter's favorite Dora so far.
_____
Disclosure: We received a copy of this DVD to review. This post contains affiliate links.