If you or your neighbors have pets, there is always a chance of your child getting bit. No matter how closely you supervise, toddlers can unintentionally provoke a dog or cat to bite them – it can happen very quickly. It's important to teach them animal safety such as not touching strange animals and not approaching an animal that's eating or sleeping.
All bites are not done in a malicious manner either. Best case, the teeth scratch your child's arm – worst case, they puncture the skin causing bleeding. Even if it's a deep bite, there is a difference between an animal coming up and attacking versus a child approaching an animal who then reacts by biting or scratching.
Yesterday, my daughter (19 months old) went over to her favorite kitty. He is one of three that we own. He is the oldest, but is the most tolerant. Something did not go right and startled him. He bit her arm hard – all four incisors punctured the skin and made her bleed.
She's been bit lightly once before by him and by another cat (too much poking and prodding) but those were light scratches on the surface. This time we had to worry about an infection.
I tried to cleanse the area the best I could, but she was not cooperating very well. I put some antibiotic ointment on the bite and covered it with a bandage. The next morning it was swollen, red, and I could see the punctures weeping.
Here is the top of the bite almost 24 hrs later…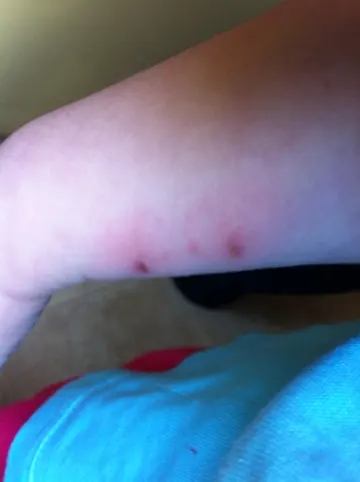 It was infected. I felt horrible. I did learn from the doctor that the worst bites are humans, then cats, and then dogs. I also read that most cat bites that break the skin will cause an infection.
We took her to urgent care to be looked over and she was prescribed antibiotics. She hasn't developed a fever or appeared sick, so we knew it wasn't too bad. Still, with any bites make sure to cleanse thoroughly and have them see the doctor for puncture wounds.
Both her and our cat are up-to-date on shots too, so that was also a relief. We are keeping an extra close eye on our cats to ensure no hostility has developed. Both my daughter and the cat act like nothing happened between them. She gave him a hug this morning! Though right after the incident she was able to communicate to me that he bit her. Hopefully it doesn't happen again. Our cats are rarely biters.
Has your child ever been bitten?