This story features Mega Bloks who provided a toy for review.
It's kind of amazing watching how Rissa and Xander grow and develop together, especially when it comes to play. Sometimes there is a little bit of toddler selfishness and sibling jealousy when Rissa takes toys away from Xander. You know, the toys she hasn't touched in ages but suddenly wants once he is interested in them?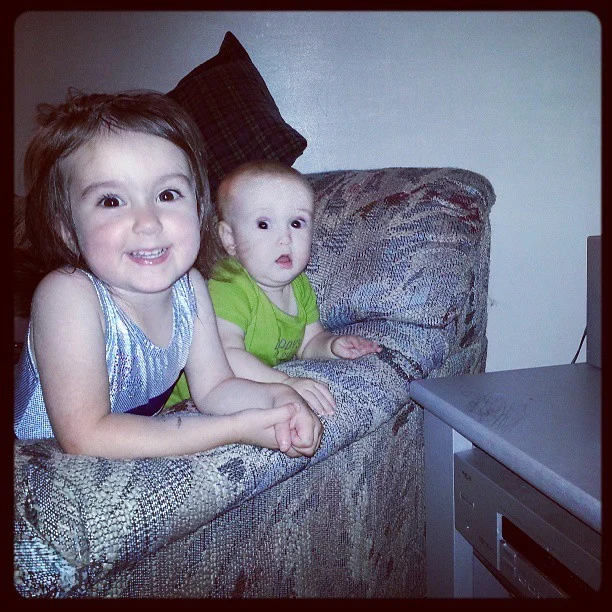 Other times they play very nicely together with Xander just trying to keep up with his big sister. Their play time together is important and teaching everyone a lot.
Rissa learns more about sharing and playing with someone rather than merely parallel to them.
Xander learns how things work and sharing.
I'm learning to let them work things out, provide play prompts, and guide their actions.
And we are all learning about creative play, humor, and appropriate language.
Ahem. Yes, I need to clean some seemingly okay words and phrases up. Also, I'm still working on responding calmly rather than reacting in anger and frustration…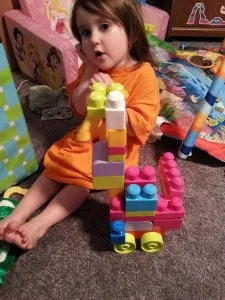 For at least a year now we've been a Mega Bloks family. Rissa loves to play with a variety of blocks, but she seems to have the most fun with her Mega Bloks. They are easier for her to stack, build and manipulate. I love that they are fine for being around Xander. It's hard work keeping track of smaller toys big sister is allowed to play with but doesn't always keep away from little brother. At least with these blocks he can hold and mouth even the smallest ones without me worrying about a choking hazard.
Hey, we love these blocks so much there are sets at each grandparents' house too!
Up til now we've mostly had just the blocks and the small car bottom in the regular set. Recently we received the new MEGA BLOKS firetruck toy to review.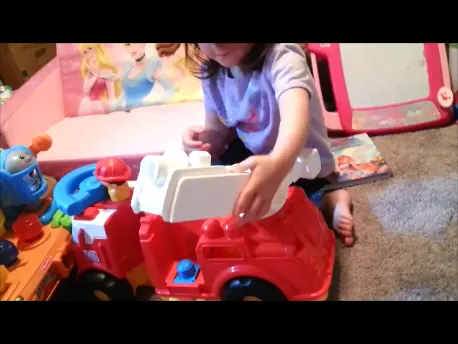 I figured instead of talking at you about it I'd let you see it in action – being played with and enjoyed. At this point we already had it for over a week.

(video)
It's been perfect for both kids to play with. It comes with a few blocks inside and a fireman. The ladder rotates around and can be lifted up to get at the storage in the truck. Rissa kept trying to extend the ladder, but it doesn't do that. Her and Xander can push the truck around. Mostly she drives it and makes sound effects while X watches, nomming on a block or the firefighter.
The truck has added to the fun we are creating around here! It's smaller than the ride on version, making it a better fit for our playroom, but the handle keeps encouraging X to stand and try to push it along.
Do you prefer watching them play with a toy, me explaining it or both for video reviews?