We received Build & Imagine's Malia's Beach House magnetic building set for review. This post contains affiliate links.
To keep up with my daughter's imagination, I find it is important that her toys have high replay value. As much as she may love the first time she plays with a highly anticipated new toy or game, she often becomes bored if there is too much repetition every time she plays with it.
I like encouraging imaginative play through open ended toys, such as her dolls. I also know she loves to build and create. The magnetic building sets from Build & Imagine brilliantly combine the two!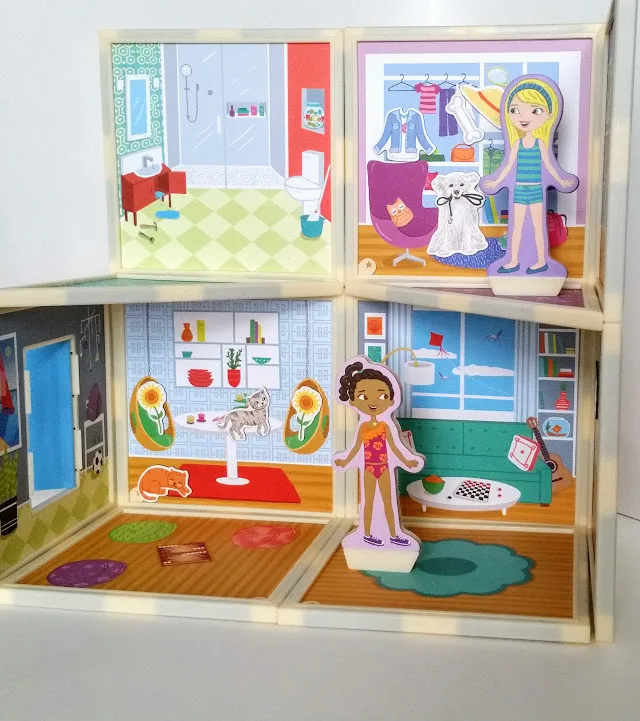 Build & Imagine Malia's House Magnetic Building Set
What do you get when you cross dollhouses and magnetic tiles? Build & Imagine play sets!
My daughter likes playing with her dolls, but has grown bored with her dollhouse. She takes the furniture out and creates different set ups to fit whatever scenario her dolls are playing out. The idea that she could design and redesign her own dollhouse was incredibly appealing.
The first time we unboxed Malia's Beach House, my daughter became frustrated building the second story. With trial and error, she learned how to construct the house the way she wanted with the provided magentic tiles. Occassionaly it doesn't quite match up how she would like, but it is fun nonetheless.
At times she seemed to forget the walls aren't as sturdy, but it was a good learning experience. I reminded her that it is designed to easily rebuild and change the walls around. We also discussed that it is OK if we knock it over, as long as we help each other pick it back up. You can see us playing with it in the video below.
Build & Imagine Magnetic Building Set Demo – Facebook Live Replay

The set comes with magnetic accessories to decorate the house as well as clothing for the dolls. They offer additional magnetic dollhouse sets, including one you can draw on, and accessories so you can build on the fun! This was a great way for my daughter and I to connect and spend time together. It's a fantastic set for play-based learning!


I'm not surprised that Build & Imagine's play sets are on Amazon's hot holiday toy list for 2016. My son and daughter both enjoy playing with Malia's Beach House set. I admit, I've enjoyed playing with it too! If you are looking for a gift that combines imaginative play and engineering skills, I recommend checking out Build & Imagine Malia's House magnetic building set.

More gift ideas for kids: