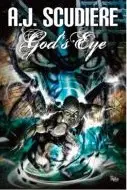 Synopsis:
Katharine Geryon is living the life her family name has dictated, and why not? After all, it has given her a good job in the family company and a fine life with all the things she should want. But all that changes as increasingly disturbing events begin to occur: soot stains on the carpet, glimpses of strange black animals, and cryptic messages written on her bathroom mirror. Baffled and afraid, Katharine begins to doubt her own sanity.
At the same time, two charismatic men enter her life: Allistair, her new assistant at work, and Zachary, a well-heeled neighbor who just moved into her building. Katharine soon finds each of them inextricably entangled in her affairs. As her life becomes stranger and her dreams more terrifying, she realizes neither man is what he seems and that she's caught in something far beyond her own comprehension. For the first time, she must reach beyond her own boundaries. There Katharine forges her first true friendship with Margot, a librarian who helps her discover what these men really are, why she's drawn to them, and what they want with her.
The answer places Katharine in the middle of a fierce battle that forces her to decide between the two men fighting for her soul.
In the end, only one can be saved, but all three will be judged.
My Review:
It has been awhile since I've read a full length fiction novel. I used to read ALL THE TIME, but my time is not what it used to be. I forgot how much I enjoy becoming immersed in another world full of interesting characters. So, while this may deviate from our normal book reviews, I needed to read a book for ME and not yet another children's book (as much as they are loved in our home)!
One of my favorite genres is paranormal and God's Eye did not disappoint. In all honesty, I procrastinated in starting the book because it seemed hard to find time for myself to read. BUT once I started, I couldn't put it down. I read all 419 pages in less than 48 hours. It was tough to get that much reading time, but I loved it!
The beginning started a little slower paced and it took a little bit to grasp what was going on with all the main characters. At first I didn't like Katharine very much, but AJ did an excellent job showing her character grow. The language used was appropriate as well. There were some swear words, but they were used to show how Katharine was not herself and further emphasized the changes going on in her life.
I liked that it wasn't clear which was the angel and the demon until near the end (sorry – NOT spoiling it!). I was guessing right along with Katharine and not always sure of my choices along the way. The descriptions of the beasts and their incorporations were vivid, allowing me to see it in my head. My heart would beat loudly in my chest as I felt Katharine's fear.
This is definitely not a book for young children, as there was a fair amount of intimate scenes, but they were not explicit. While the build up of the want and desire was pretty hot, the scenes tended to fade to black, keeping it tasteful. So, if you like hot romance without graphic detail, this book is a good choice. The sex doesn't carry on throughout the entire book because it's not there just for the heck of it – it serves an important purpose in moving the story and relationships forward.
If you like paranormal fiction with some steamy romance mixed in – I recommend this book!
Available for purchase at GodsEyeTheBook.com and on Amazon!
Follow Utukku to other stops on his way to ComicCon!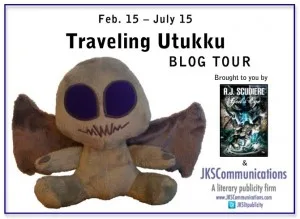 Prize!
One of A.J.'s AudioMovies (CD or jumpdrive, winner's choice of type and book title)
Giveaway!
Log into the Rafflecopter form either with your Facebook account OR just name & email (this will help it remember if you entered already!)
Required entry to enter is the main entry – the rest are optional extras.
Click "Do It!" to see the directions for the entry option. Read the instructions and complete them, then click "Enter!" to fill in the requested information. If you submit without completing tasks, your entries will be invalid.