As part of a sponsored campaign, we baked cookies using Werther's Baking Caramels. All thoughts shared are our own.
When you think fall, what do you think of? I think of leaves, apples, pumpkins, caramel, Halloween, and sweets. Fall is the season for so many yummy desserts and dishes, isn't it?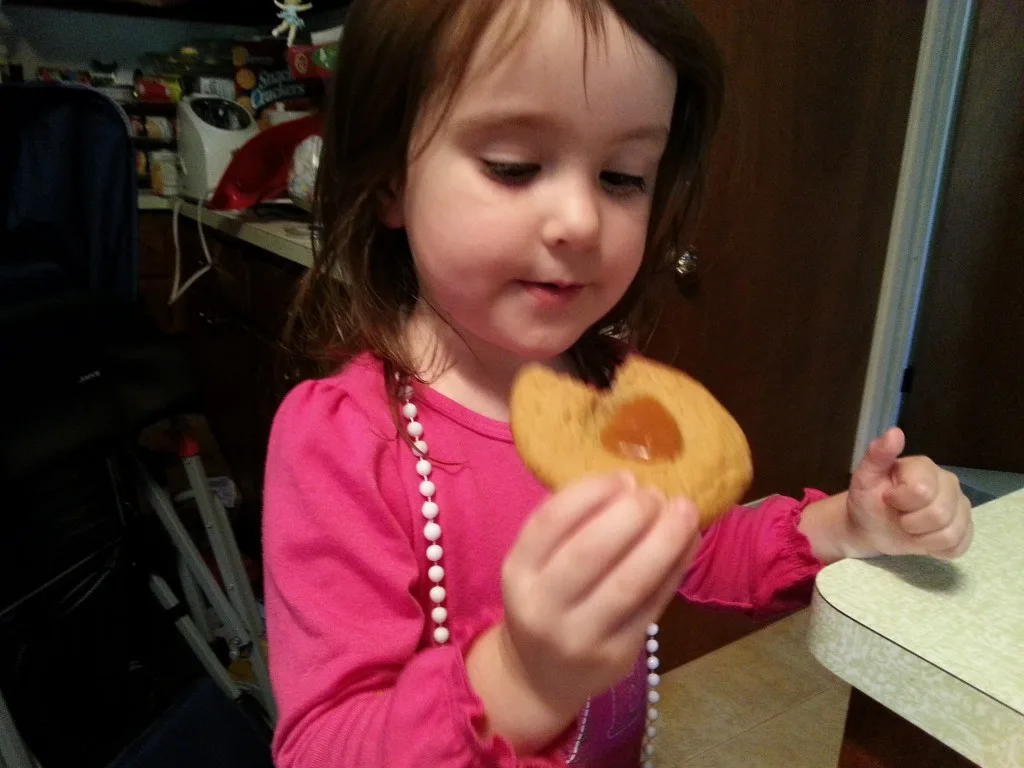 Recently we received Werther's Baking Caramels to try out. They are individually wrapped and easy to melt. Brian has also been stealing some from the cabinet to eat as is (and he reports they are a little softer, making them easier to eat that way). There so many things I wanted to do with them, but for our video Rissa and I made thumbprint cookies.
I've always wanted to try making them.
Turns out the whole "thumbprint" bit is kind of a lie. Most of our cookies had no prints to speak of after baking, forcing me to use a spoon to make little bowls in our cookies before they cooled off. They still tasted delicious.
So, we used a ready made peanut butter cookie mix and baked them according to the package. Rissa helped pour ingredients and stir. She was the biggest help when it came time to unwrap the caramels. I even turned it into learning by having her count them. (So clever, I know.)
Teaching her how to roll the dough into balls was interesting. One thing not shown on camera is the "log" cookie she made. I wish I had taken a picture at least! She did love "poking holes" into them when it was thumbprint time.
Anyway, check out our video, visit the Werther's caramel community and see what they are up to on Facebook.
Side note, I had to practice and catch myself repeatedly to make sure I said care-AH-mels instead of car-mels… which is how many of us Wisconsinites say it. ;)