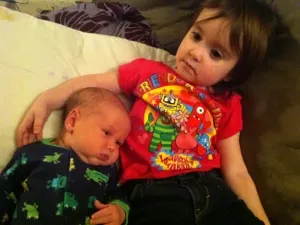 As much as I love these two kiddos, it's definitely an adjustment – and a bit of a learning curve – to surviving each day. There are certainly pros and cons to having children close together. Having two under two (or would I say two under three since Rissa is 26 months old?) can be challenging and demanding because they are both pretty dependent on you.
Sure, Rissa is growing up fast and showing more and more independence, but she still needs her diaper changed, assistance while getting dressed, meals prepared for her and supervision. Good lord the things she can and will get into when not watched like a hawk can be quite scary. Plus, she still prefers me as her playmate though she is playing more on her own.
My sole purpose each day is just to keep these two alive, I swear!
I lucked out that Brian had plenty of vacation plus holiday time off so he could be home with us for a few weeks. It was so nice having one parent per child! But now I'm on my own with these two.
It's been going okay so far but it's only been a couple days. I feel like I get "nothing" done since tending to their basic needs easily takes up my whole day. I'm slowly adding in things like doing a load of laundry and trying not to feel guilty about what I can't do. Plus, little man and I are still getting used to this sling.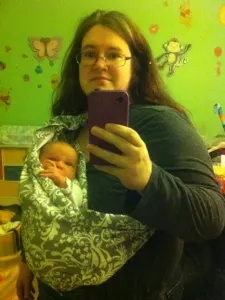 Hotslings adjustable baby sling
Thankfully my husband is pretty amazing, though when I tell him that he says he's just doing what he should be doing to help me. *melts*
I can tell how draining it is to be home alone with Rissa and Xander just by how my exhaustion level shot up after Brian returned to work. Suddenly I could barely keep my eyes open after both kids went to sleep (which meant no blogging!). I don't want to be too sleep deprived so I've been listening to my body and sleeping when I am able. Let's hope I can continue to time their naps together!!
Still, there are times frustration builds and we all just want to cry.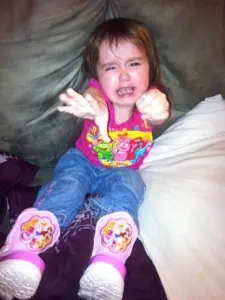 And when that happens we hug and kiss and soothe each other with assurances that everything will be all right. Because in the end, I know it will be and they'll grow up in the blink of an eye leaving me to wonder how to adjust to life without them.