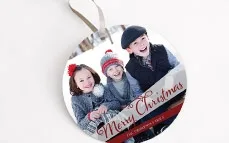 Still need Christmas cards that don't suck?
I'm not going to lie – we still haven't mailed ours out yet, but we have them. I know from past experience though that whatever is left at the store now sucks. No one wants to send out the rejected cards…the cards that scream I procrastinated so all you get is this crappy card!
Lucky for you, there's still time if you order from Tiny Prints by tomorrow. That is the absolute last day to use their Super Rush shipping and guarantee delivery by Christmas Day.
That won't give you time to write in them and mail them, but you could hand deliver them if you'll be seeing everyone. Or you could have Tiny Prints mail them for you! Or do both even.
If you are in a pinch I suggest getting the ornament cards (we got those last year, everyone loved them!). They are easy to personalize and don't need a handwritten message. Perfect to have Tiny Prints mail for you!
The clock is ticking…it only takes a few minutes to create and send the perfect cards. Just follow these simple steps:
1. Choose from 100's of Tiny Prints Holiday / Christmas card designs.
2. Add your photos and tweak the text to your liking.
3. Use the promo code 20DECSW to save at least 15%.
Just because you waited until the last minute doesn't mean you have to send bad cards. Head on over to Tiny Prints now.
____
Post contains affiliate links.