This post contains affiliate links. We received this My First Christmas Tree plush toy for babies and toddlers for review.
When I was little, I loved helping to decorate the Christmas tree. We'd put it up anytime after Thanksgiving and before Christmas Eve, making a night of it. We typically put up an artificial tree (that my dad marked in some sort of code so we'd know what branches went where). I only remember having a real tree once or twice in my life.
Back then, we had to test the each bulb on the light strands before wrapping them around the tree. Next we'd add garland, then ornaments. We had a lot of homemade ornaments that my mom made (then later ones I made at school or with my mom). It was never the prettiest tree, but it was OURS. I mean, it was pretty in its own way – it just wasn't one of those perfectly done trees with a color scheme or anything. You know, those catalog trees?
Being little and short, I hung everything along the bottom in the front. After I'd go to bed my parents would re-distribute the ornaments more evenly around the tree. Soon I can start a similar tradition with my own daughter. But first, we have to get a bigger tree (we currently only have a 3 foot tall tree) and find a place to put it up. Admittedly, we rarely put up our tree since I have a lot of mixed emotions surrounding the holidays. If we do put it up, it's usually closer to Christmas so it's not up for very long.
I know Rissa will have a hard time keeping her hands off of the tree (much like the cats) so when we received this My First Christmas Tree soft toy, I thought it was the perfect way to introduce Rissa to tree decorating!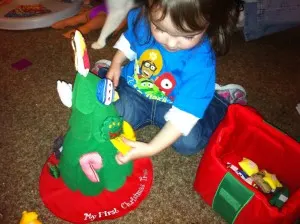 It comes with several ornaments, two different tree toppers, and even a tree skirt. Everything fits into a cute little present shaped plush box. Rissa has fun setting her tree up, decorating it, and changing the toppers. She's learned a little bit about Christmas trees from some of her favorite shows and books (plus she did see a few last year at other people's houses). I think it's a great way for her to play and have a tree that is entirely her own. Plus, it's machine washable so I don't have to worry too much about her getting it dirty!
Do you prefer big Christmas trees or smaller personalized trees?
_______
Disclosure: We received the above mentioned Christmas tree toy for review purposes. No other compensation was received. Happy Holidays!