I am a huge fan of video games, and especially video games for kids to use in learning. We already have our kids playing games with us on a regular basis, and this list of video games is perfect for really helping your kids learn while having fun. I want my kids to enjoy education and what better way to get them started than with some video games to play together?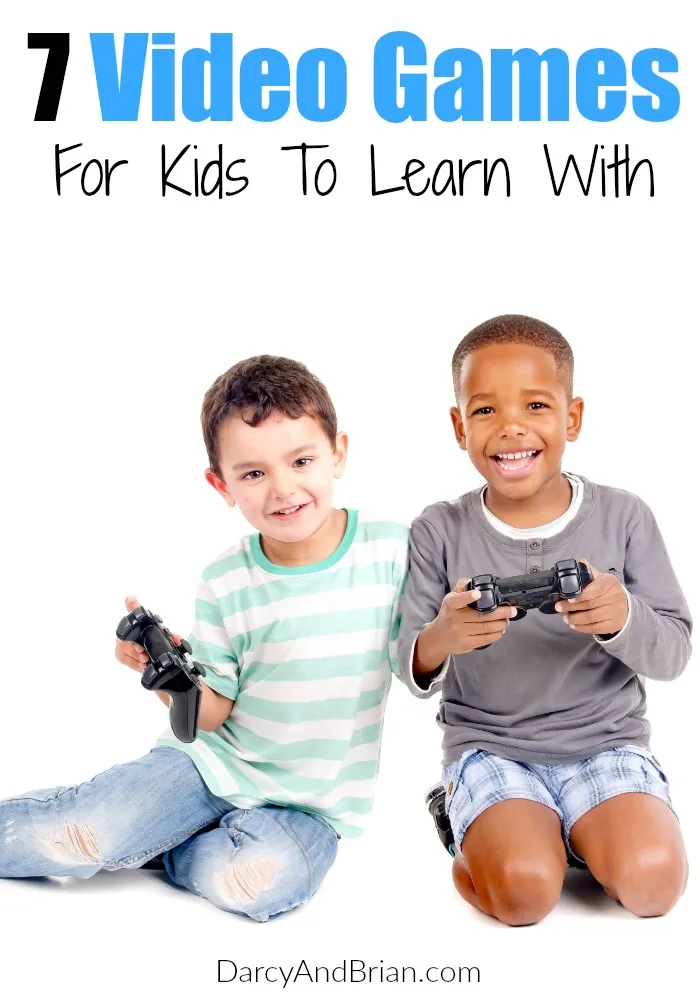 7 Video Games For Kids To Learn With
This post contains affiliate links.
Reader Rabbit: This was actually one of the first games I played on a PC and is now available on most gaming systems. It starts with a toddler version and goes through many grade levels. Every game is about learning letter recognition, spelling and how to build sentences. It's tons of fun, and even the youngest can enjoy playing this video game.
Math Blaster Prime Adventure: This is a great video game for kids, but is usually found only for PC or Nintendo DS at the moment. They may have more released in the future, but for now, this is a great choice for older kids to have fun while reinforcing math skills.
National Geographic Challenge: For fun educational information, this is a great game for older kids. It is a bit tough to get started in, but can be a good educational tool and fun to play with school-aged kids.
Minecraft: Yes, this most popular choice in video games for kids is great for them to learn with. Using Minecraft as an educational tool gives you options of learning about building, design, responsibility for your cities and even things like a big of geography and math.
Big Brain Academy: For school-aged kids, this is the perfect video game choice for learning. It's a very competitive game and perfect for multiple players to learn and grow while playing. This has more questions than some of the other games, and is definitely education focused so typically better for the older child.
Magic School Bus Oceans: This is just for the Nintendo DS, but is a great choice for kids of all ages. Even younger kids can learn through the fun of the Magic School Bus! This specific game focuses solely on education regarding oceans and is perfect for the kid who loves the water.
Sesame Street Cookie's Counting Carnival: Perfect for younger kids to learn more about numbers, it's a great choice that is fun, full of great visual aids and educational. It's a great way for kids to learn while playing, and the younger kids will enjoy seeing some of their favorite characters on the screen.
This list of video games for kids is just the beginning of what you can play to help your kids learn. Look for games for your PC, online, for your gaming consoles or even your handheld game systems to give your kids a chance to learn during play in many ways. Our kids also enjoy playing Disney Junior games and a variety of LeapFrog LeapPad games, both of which are great for younger players. Video games can be a great way to work on hand-eye coordination as well as learning educational concepts and even how to share and take turns with their siblings and friends.
Check out some of our reviews of video games for kids:
Minecraft: Story Mode Game Review
Family Game Night 4 for Xbox 360