If you are experiencing breastfeeding pain, I understand how frustrating it can be. I remember how uncomfortable it was to nurse my first baby and considered whether or not we should continue.
Breastfeeding pain is one of the reasons many moms decide to stop breastfeeding and switch to donor milk or formula.
While sometimes stopping may be the only solution, I want to share some tips for handling breastfeeding pain. Hopefully they help you feel supported and find a way to continue on this wonderful journey for you and your child.
RELATED: The Ultimate Guide to Breastfeeding Your Child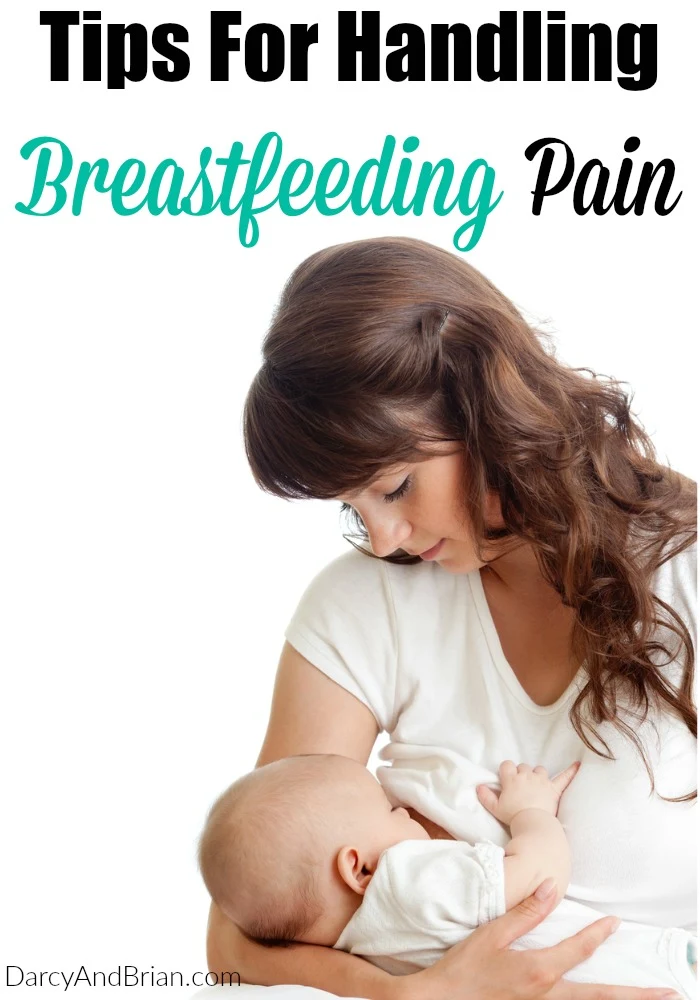 In the first few weeks after having my daughter, I struggled with discomfort and pain while nursing. I knew part of the soreness was due to my baby and I learning how to breastfeed.
Eventually I scheduled an appointment with a lactation consultant because my nipples were cracked and bleeding. I suspected a shallow latch and wanted to find a way to work through it, but I needed help.
RELATED: Breastfeeding Obstacles: My Baby Forgot How to Nurse
5 Tips For Handling Breastfeeding Pain
This post contains affiliate links. As an Amazon Associate and a participant in other affiliate programs, we earn a commission on qualifying purchases.
Try to determine the cause.
There are many reasons that you can have breastfeeding pain. Pain is most often from improper latch causing nipple pain, to engorgement or mastitis that can lead to extreme pain and inflammation.
You can't find a way to fix breastfeeding pain without knowing what is causing it. Focus on when you are having pain, what your actions are and if they are causing the pain.
Don't hesitate to contact your doctor or breastfeeding consultant.
No matter what your pain source is, your doctor or breastfeeding consultant are the best people to call for help.
If it is a latch problem or pain when your child is suckling, you need to ask your consultant for tips, different holds or suggestions to train your baby to latch properly.
While latching is often a painful issue for moms, it can be overcome and corrected.
Hand express for engorgement.
Pumping using a high powered pump like Medela is a great solution between feedings if engorgement is a problem, but sometimes you just need to hand pump to get the rest of the milk out.
There are tons of videos with tips for hand expression, and for many this is a much better method over pumping for storing breast milk and relieving pressure when you are producing more than your baby can drink.
RELATED: Tips for Picking a Breast Pump
Use heat and massage prior to nursing.
Heat from a warm damp cloth on the breast can make milk let down easier which will relieve pain from engorgement, but won't relieve the pain or swelling associated with mastitis.
Gently warm your breasts with hot water or warm towels a few minutes prior to nursing to help make milk flow easier.
Use cool compresses between feedings.
For painful swelling due to engorgement, cool compresses or cabbage leaves are a great choice.
These can be used off and on for 20-minutes at a time between feedings to help relieve some swelling and pain. However, they can also reduce milk supply so you want to monitor closely so you aren't using so often you aren't producing enough.
I also found cooling gel nursing pads to bring relief and they helped heal my sore, cracked nipples.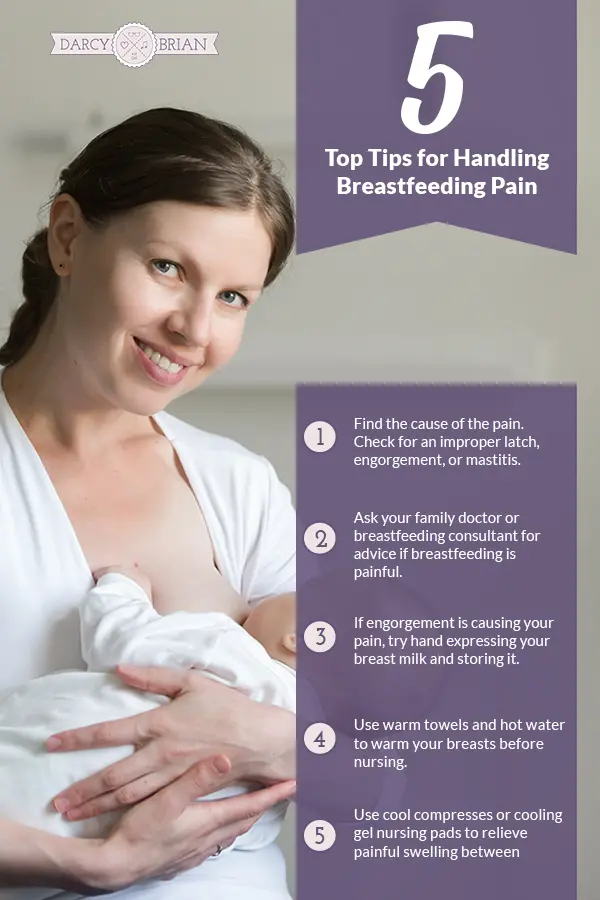 Breastfeeding pain can be a huge burden on a mom who wants to develop a breastfeeding relationship with her baby. If it hurts every time you nurse, it can make you even more exhausted, frustrated and unhappy.
Alleviating as many symptoms as possible to encourage easier breastfeeding is vital. Make sure to take the time to consider the source of your pain and work through these tips to find a solution.
Don't miss out on our other great breastfeeding tips!