5 Tips to Bath Time Fun
1 – Use a baby/toddler tub. The size of the tub will seem less scary when they can sit inside a smaller version.
2 – Have plenty of bath friendly toys. Rubber duckies, buckets with holes, boats, letters and more can be great fun. A doll or other "non-tub" toy that is okay to be in the tub can also provide transition reassurance.
3 – Don't use bubble bath. I know it seems like it should be fun but it can irritate their skin to sit in it, especially for little girls.
4 – Sing songs and gently splish-splash along with them. Let them know it's okay to have fun!
5 – Use natural products that are naturally tear free and save hair washing for last. It can make them cold to wet their head right away. Plus, most little ones don't like water running down their face or into their ears. Saving the hair washing for last can keep most of bath time fun.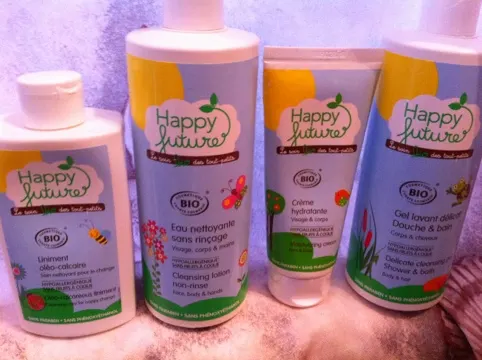 There are quite a few different natural bath products out there. Recently I've been using the line from Happy Future. All the ingredients are natural. It smells a little unusual but not bad. It reminds me of products made with tea tree oil – it is a distinct but not unpleasant scent.
My favorite Happy Future product is the nappy change lotion. It's a cleanser that does not need to be rinsed off. I like it for dirty diaper changes and in the morning to freshen up her bottom without a full bath. This also keeps baths fun – we only do full baths a couple times a week. So, Rissa looks forward to them and she isn't very dirty for most of them!
Disclosure: I received Happy Future products to try at no cost to me. I was not compensated in any other way. All thoughts shared here are my own!