Many of you may be planning to travel over the next few days if you haven't hit the road already. I know the holidays mean more running around for us as we try to see as many family members as possible…some we only see this time of year. Between shopping and visiting, we are out and about a lot this time of year.
Unfortunately, it's also a time we need to be more cautious about protecting our personal information from identity thieves and other unsavory individuals. (You've seen Home Alone, right?) We just need to be more aware of what information we are giving out and where. It's easy to get distracted and excited – causing us to miss red flags if we aren't paying attention. Here are some proactive tips to help protect yourself when traveling whether it's out of state or across town!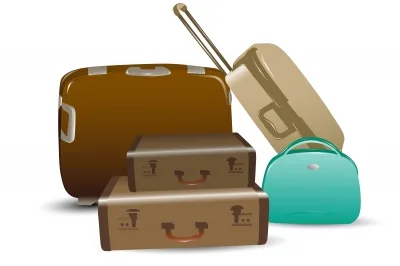 5 Tips for Safer Holiday Travel
1 – Be cautious about how and where you share your travel plans especially on social media. It can be exciting to tell everyone about an awesome trip you have planned or to complain about who all is going to be at your Gramma's house, but try to keep that information off of the internet. Nothing says empty house! like announcing a family road trip to the world. I try not to mention my family's travel plans too much until after we've returned or I'm vague about whether or not all of us are gone.
2 – Put your office address on luggage, not your home address. This will help keep your home more secure if someone else ends up with your belongings. We usually include a business card in our luggage tags. Don't forget to put identifying information inside your suitcase too in case something happens to the outer tag.
3 – Password lock your phone. If your phone is lost or stolen it will minimize the personal information a stranger can access. Also, use at least 5 characters and avoid easy to guess ones like "12345."
4 – Monitor bank and credit card statements for unauthorized charges. While shopping for gifts and spending more than usual, it'd be easy for extra charges to go unnoticed. Keep an eye on your statements and contact your bank or credit card company if anything looks out of place.
5 – Contact credit card companies before traveling especially out of state or country so they are less likely to freeze your account for suspicious activity. (It may also may help to use your card to buy something at the airport before leaving.) When I went to NYC, I notified my credit card company of my travel dates so they knew I was going to be there and would be less likely to put a hold on my card. I've known others who've run into issues due to holds and it can really create stress.
What tips do you have for holiday travel safety?

For even more tips on safe guarding yourself and your information, be sure to check out the LifeLock Facebook page and follow @LifeLock and #LifeLock on Twitter. Also, be sure to play the LifeLock for Life Sweepstakes for a chance at great prizes while learning tips and facts that can help protect you from identity theft.
________
Disclosure: I am a LifeLock Brand Ambassador and will be compensated for sharing this information with you.
Image courtesy of [digitalart] / FreeDigitalPhotos.net