Getting sick is the worst, don't you agree? I don't think I've known anyone who actually liked being sick. You're hot and cold, run down and all out of sorts. Knowing how terrible I feel, I try to help sick loved ones. It's so nice to be cared for, isn't it?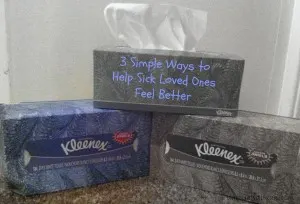 Obviously I take care of my husband and children when they are sick. They get soup and cuddles! The little ones also get their runny noses wiped for them. Cold and flu season means several friends and family members get sick. This year we've been pretty lucky though my daughter just came down with a cold the other day.
When my dad was really sick and had surgery last year, I did a lot to help him and my mom out. They always took care of me when I was sick, so it only seemed right. Since they don't live real close, I stayed with them for a week in order to help with laundry, chores, grocery shopping, errands, and meals. It's not always possible to do that much to help someone out, but there are small things we can do for others!
3 simple ways to help sick loved ones:
1. Call or write them. This is probably the most common one. Although not everyone will feel up to talking, it's nice to know someone cared enough to check in! Get well cards, texts and emails are also appreciated.
2. Run errands for them. When I'm sick, the last thing I want to do is get dressed and go out in public. Offer to pick up prescriptions or any other odds or ends they may need from the store.
3. Give them a care package. This was my favorite thing in college, so why not make cold and flu care packages filled with Kleenex, chicken noodle soup, cough drops, hand sanitizer and some entertainment like a book, movie or crossword puzzle? Oh, and maybe some chocolate or candy, too. Now you can easily send one already put together with Kleenex Care Packs.

Kleenex brand, America's softest tissue*, knows that once one experiences the softness of Kleenex brand tissues, they will be eager to share it with other cold and flu sufferers, friends and strangers alike, as a way to show they care. This cold and flu season, make the care complete with a Kleenex Brand Care Pack, and together we'll turn a seemingly-small gesture into something bigger, to make everyone feel better. Visit kleenex.com/softness to learn more.
How do you make others feel better when they are ill? What do you want most when sick in bed?
_________
Disclosure: Compensation was provided by Kleenex via Glam Media. The opinions expressed herein are those of the author and are not indicative of the opinions or positions of Kleenex.