The 12 Days of Gifts Galore giveaway event is coming up November 25th through December 6th. Be sure to come back then and enter to win a prize from this event sponsor!
Douglas Cuddle Toy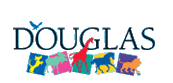 Douglas Cuddle Toy is New England family-owned business that started in 1956. They have a design team that works hard to continue to add to the Douglas family. They are committed to safety, craftsmanship, and ethical practices. Douglas Toys are created with gestures and expressions, making them stand out.
It was not easy to pick just ONE! They carry a wide range of items for all ages which makes Douglas Cuddle Toy an ideal places to shop for your gifts! For babies they have cute Lil Snugglers. They have girls toy purse such as the Sillo Purse (I love the purple butterfly one!) and also Fuzzles! So yes, finding something was fun but it took me a minute to decide.
While the plush dogs were super cute, Rissa hasn't really been around many dogs. But she knows what kitties are! So, I looked through their plush cats and was excited to find one that looked quite similar to our big tabby (though the plush is more slender).
Ta-da!
The Peaches Orange Tiger Cat looks the most like our Freckles. Rissa points to Peaches' (yes, I kept that name….) eyes, ears and mouth. She hugs it and squeezes it and recently started yanking on the tail. I've been working with her on petting gently and nice. Unfortunately for the real live cats (and myself) when she gets excited she starts to smack, not softly pet.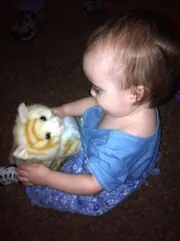 Rissa definitely likes her kitty, and Peaches is perfect sized for her! She carries him around and hugs him. She'll also sit and pat him saying "kitty kitty" it's adorable! The hair does shed out a bit if she's pulling on it, so I just have to watch her on that. I tested the whiskers and they stayed put when I yanked on them. Definitely a great snuggly gift idea!
Connect with Douglas Cuddle Toy on Facebook and Twitter.
______
FTC Disclosure: I received the product(s) mentioned above free of charge by the company or PR representative in order to conduct an honest review. I was not compensated in any other way for this post. The thoughts, experiences, and opinions included are entirely my own and may differ from that of others. I am not liable for any issues you may incur from use of said product(s). Images used are owned by me or provided with the company's permission unless otherwise sourced. See full disclosure information. If you have any questions you can contact me or leave a comment.