I've been sharing a few pics of baby Xander on Twitter and Facebook and have lots more to come. It's been hard to get a chance to get on our actual computers so the pictures on the "good camera" haven't been transferred yet. I have only been able to share ones taken with my phone so far because they are super easy to share.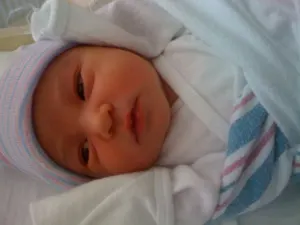 Left: Rissa Right: Xander
Close family and friends noted right away just how much Xander looks like his sister as a newborn. We noticed it too – they look SO much alike at birth and even have similar cries. It will be interesting to see how their little personalities compare as Xander grows into his.
Did your kids look a lot alike as newborns?