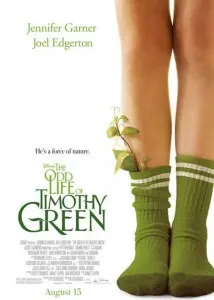 When I screened Disney's The Odd Life of Timothy Green while in New York in April, I really didn't know what to expect. I didn't know much about it beforehand, only that it was a family movie with a kid growing leaves out of his legs. By the end of the film I cried, laughed, and missed my daughter.
When I went home and told my husband about Timothy Green, I started crying. Even as I recall it now to tell you what I think of the movie, it brings tears to my eyes. Don't confuse that with being a sad movie!
It's emotional, but I wouldn't call it sad.
While struggling to conceive my daughter, Rissa, watching movies about babies, having babies, losing babies, and not being able to have babies were difficult for me to watch. I'm lucky that we were able to conceive her naturally after 3 years of trying, but the pain I felt during that time is still fresh in my mind and heart. The basic premise of The Odd Life of Timothy Green [no spoilers!] is that Cindy and Jim Green really want to have a child of their own. They are not able to so they write down all their wishes of what their son would be like and plant it in the garden. Timothy suddenly appears – born from the garden – and their lives are changed forever.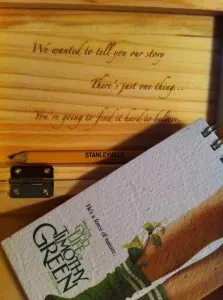 I foolishly tried to eat a cupcake as this movie started. While it's not the first time I've cried while eating a cupcake in the dark, it was embarrassing nonetheless! In the beginning of the movie, there is one especially powerful scene for me. It's not when they find out they can't have children – it's shortly after that. Cindy is in the nursery with the door shut. All I can see is Jim standing outside the door, but I hear the mobile music playing and Cindy sobbing. It cut right through my heart and I cried along with her.
After that, the movie picks up as you meet Timothy and see his affect on people. Peter Hedges (the director of this and Dan in Real Life) did a wonderful job of including diverse people and attitudes that were part of their lives. From Cindy's boss who doesn't understand motherhood to Cindy's sister with those obnoxiously perfect children she constantly brags about.. you are sure to laugh and cry and identify with them in some way or another.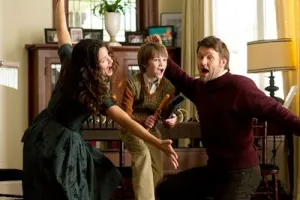 Timothy has a beautiful personality and is a great example of a goodhearted person. He treats everyone with kindness and is very accepting others. I think this is a positive message for families, especially kids.
Again, I don't want to give anything away, but I think there are great take away messages and awareness for families regardless of their makeup – family is family. It is emotional. There is no denying that, but it leads Jim and Cindy to happiness as well as other townspeople, because Timothy teaches everyone something. He's inspiring and magical and makes me appreciate my husband and children even more!
After viewing the film, we were lucky to have Peter Hedges join us for a discussion. He shared about his inspiration and that he hopes this movie appeals to families of all kinds. I was weepy again listening to him talking about his wife and children… about how we have such a short time with our kids before they are living their own lives. I never really thought about it like that, but it is true. Timothy wants us to make that time count!
Are you going to see The Odd Life of Timothy Green when it comes to theaters August 15th? Tell me in the comments below!
We'll be having a date night to watch it. Hubby needs to experience it for himself and I need to have a good cry again while being re-inspired!
Official Synopsis:
Academy Award®–nominated director/writer Peter Hedges ("Dan in Real Life," What's Eating Gilbert Grape") brings enchantment to the screen with "The Odd Life of Timothy Green." It's the inspiring, magical story of a happily married couple, Cindy and Jim Green (Jennifer Garner and Joel Edgerton), who can't wait to start a family but can only dream about what their child would be like. When young Timothy (CJ Adams) shows up on their doorstep one stormy night, Cindy and Jim—and their small town of Stanleyville—learn that sometimes the unexpected can bring some of life's greatest gifts.
Disney presents "The Odd Life of Timothy Green," with Ahmet Zappa, Scott Sanders and Jim Whitaker producing, story by Ahmet Zappa and screenplay by Peter Hedges.
"Like" THE ODD LIFE OF TIMOTHY GREEN on Facebook: http://www.facebook.com/OddLifeMovie
Follow THE OFF LIFE OF TIMOTHY GREEN on Twitter at: https://twitter.com/#!/OddLifeMovie
THE ODD LIFE OF TIMOTHY GREEN opens in theaters everywhere on Wednesday, August 15th!
_____
Disclosure: I screened this movie while attending a Disney media event where travel and lodging were provided. No other compensation was received and my thoughts are my own regarding this movie. Now where are my tissues?