I've been breastfeeding for over two years now. I am still nursing Rissa, though she only has one session a day now, usually around bedtime. It's been cut down due to the arrival of my son, Xander. Now he is nursing like a champ every 2-3 hours around the clock. Well, he is starting to give me a little bit of a longer stretch at night. Anyway, I've barely worn a regular bra in two years. Nursing bras are what I rely on to keep the girls supported and in place. (And a supportive nursing bra is a must have breastfeeding product!)
But that also means I've gone through several nursing bras since I wear them until I absolutely cannot wear them anymore. Good bras aren't cheap, you know! Mine get stretched out and the hooks get all bent funny making it impossible to hook it together. Same thing happens to my regular bras when I wear them out, but boy is it a sad day when I have to retire a well worn and loved bra.
I've tried several types of nursing intimates and a few different brands. Some I strongly disliked and barely wore (cursing about the money I spent) while others are so comfy I know I just have to buy more of them. It took some testing to find what I liked and didn't like. Heck, some bras seemed okay at first until I wore them a few times – then their true colors came out!
Last year, after trying and ditching several different nursing bras, I received the opportunity to try one from Leading Lady. It quickly became my favorite. The pattern under the flap was good for drawing Rissa's attention, the cups had varying closure hooks to accommodate breast size changes throughout breastfeeding, and it was supportive.
And, of course, comfortable!
I wore that thing as much as I could. Finally I had to give it up this summer when I was down to only one functioning hook on the back. Actually, I still have it…. I just can't wear it. (I know, I know… it needs to be laid to rest.) So you can imagine my excitement when asked to try out a new nursing bra from their new holiday collection.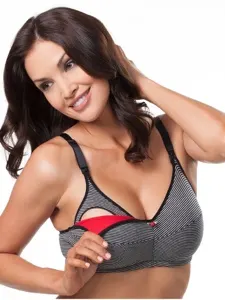 I picked out the Leading Lady's Cotton Wirefree Nursing Bra 2-Pack (great value for 2!). They are comfortable, supportive, and look nice. It's a simple design but the little flower is a nice touch and something my kids like to play with while breastfeeding. Also the flaps are easy to operate one handed.
My Leading Lady bras are the only ones that I don't have an issue with the band or straps cutting into my skin. I loved the new ones I received for review so much that I bought another set during their Thanksgiving sale!
They are by far my favorite for nursing bras! Comfortable, supportive, affordable, durable, and they look nice too. It is so important to find a good supportive bra.
Want to become a Leading Lady too? Get 15% off site wide through January 31, 2013 using discount code LLHOL2767!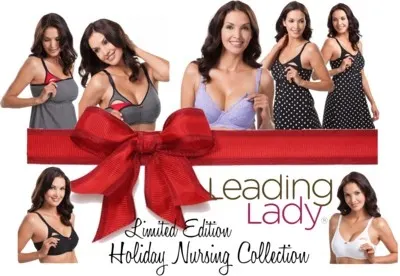 Leading Lady's limited edition holiday nursing collection includes bras, camis and chemises with a peek-a-boo red accent, holiday-inspired floral embellishments, playful polka dots, and a soft lavender lace that will melt the heart of every new mom (and dad!). The collection provides comfort, support and style – the perfect gift to make a new mom feel flirty & feminine and ensure she is party-ready this holiday season.
Follow Leading Lady on Facebook, Twitter and Google+.
Have you tried a Leading Lady bra? They have more than just nursing bras!
______
Disclosure: I received nursing bras to review; no other compensation was received. I'll be buying from them again too!