I remember playing with Little People by Fisher-Price when I was little. I had a neat little school house for them that wasn't much larger than a Happy Meal box. That was quite some time ago compared to the progression of technology and how we play games. Today's Little People are no longer smooth, cylindric bodies with heads attached. No, now they have outfits and are shaped more like people and have limbs! I've been looking forward to Rissa playing with them (they have such cute sets!) and was really interested in the Little People Zoo Talkers Animal Sounds Zoo
.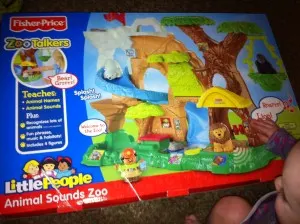 The first time I saw a commercial for it, I just knew it would be perfect for my little girl. I know it is recommended for ages 18 months and up, but it seemed like a playset she could enjoy even though she won't be 18 months old until the end of April. I mean, she loves animals and it doesn't require complicated play for her to have fun with it.
The Animal Sounds Zoo combines jungle, arctic, grasslands, and water habitats into a zoo playset. It comes with three animals: polar bear, gorilla, and lion. The set also includes the Zoo Keeper. The jungle portion features high treetop areas for animals to sit and a swing. The grasslands has a fun peekaboo door. The arctic has an icy slide that ends at the pond where a hippopotamus resides. Next to the hippo is the zoo keeper hut.
So where do the sounds come in? Well, the lily pad in the pond is a button that opens the hippo's mouth and makes animal sounds. The zoo keeper platform can be pressed down to give a friendly sounding tour guide. Sometimes it plays jungle sounds for the habitat, too. The most unique part though? The red button in front of the tree is very fun! When the animals are placed over it, the name of the animal is said and the noise they make!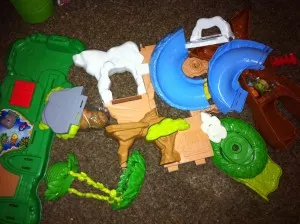 The box is a decent size and has several pieces needing assembly. The instructions were pretty straight forward. Most of the pieces snapped together but needed a few small screws to keep them together and keep the playset steady. I found the hardest part to assemble was where the tree slightly overlaps the rock. It was a little awkward to get them to snap together right. All the while, Rissa was trying to be patient. She could not wait to play with it herself. Once she quit hovering over me, I was able to finish it up quickly.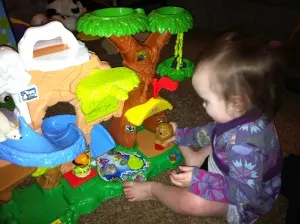 I like that there aren't small parts, the animals are big and chunky for her to grasp, and the voice capabilities. Thankfully there are additional animals to buy! I want her to have the whole set…
I love that this set is made for creative and imaginative play. It will also better help her to learn the animals by sight and sound. She is able to get them on the red button all by herself too! (Not 100% of the time, but she's better coordinated than I thought.) She's also figured out the peekaboo door, which has been a very fun activity.
Where to buy: Find Little People Zoo Talkers Animal Sounds Zoo on Amazon and at major retailers such as Walmart.