I almost forgot how awkward it can be to dress and change clothes on a newborn. It is certainly much different than a toddler who can help get dressed! I felt more at ease this time than when Rissa was a baby, but still… they are so little and you try to be gentle. I learned a few tricks that made dressing babies easier and hopefully they'll help you too!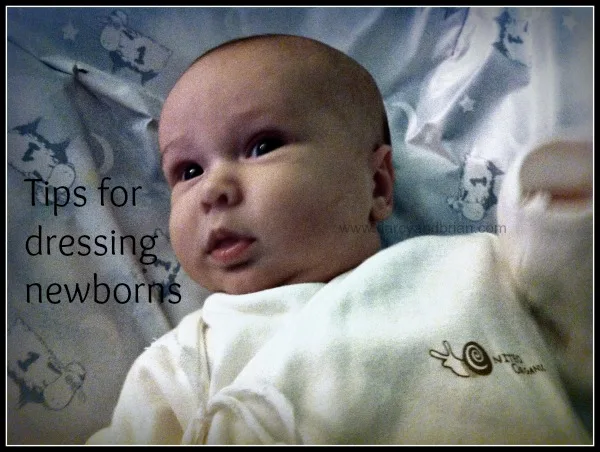 Xander in his Niteo Organic kimono style onesie.
Tips for dressing newborns
Keep outfits simple such as footed one pieces and bodysuits with pants or leggings. No matter how cute that three piece suit is, you'll hate it when trying to strip it off without getting poo everywhere after a poopslosion blows out the back of baby's diaper. Trust me.

Find clothing with wide open necks (you'll see them overlap a bit on the shoulders) or open in the front (kimono style).

Lay open clothing down, then baby on top of it.

Reach into sleeves and pant legs to find baby's hands and feet to gently pull them through.

For over the head shirts, place thumbs inside the bottom opening and gather the material in your hands until you can hook your fingers into the neckline. Gently pull over the top of baby's head. It may help to slightly elevate baby with one hand as you start it or to lift his head and slip the shirt donut behind his head.

For footed outfits where the zipper or snaps only go down one leg (usually the left), put the right leg in first.

In warmer weather, dress baby light. In colder weather dress baby in one more layer than you would wear.
Along with these tips, I've found that I prefer snaps over zippers. I dislike pulling clothes over baby faces because their heads often get stuck and the get scared. My least favorite are the rompers with snaps in the diaper area but not down the middle. It's not very fun trying to pull it down over their face, shoulders and body while they are laying on their back!
I also try to avoid clothing with tags since they can irritate baby's skin. When I can I like to get organic outfits like the ones at Niteo Collection. I love how soft organic cotton clothing feels and they seem thicker. They stand up to frequent laundering better in my opinion and I know it's gentle against delicate newborn skin.
What are your tips for dressing/undressing squirmy babies?
Leave a thoughtful, relevant comment to enter for a chance to win any one available organic baby item of winner's choice from Niteo Collection's organic baby clothes. Open to U.S, readers only. Ends 2/28/12 at midnight. Winner will be randomly selected. *Giveaway has ended. Congrats Lynne!*
Please connect with Niteo Collection on Facebook and Twitter.
_____
Disclosure: We received clothing items from Niteo Collection's baby line to facilitate our review.