While we were in New York City for BlogHer12, we met a fuzzy orange "guy." As we walked out of the Expo Hall, we came upon the Lorax. He was posing for pictures with people and a small crowd had gathered around him. I was wearing Rissa on my back throughout the hall and she started to doze off, but as soon as she saw the Lorax she perked up.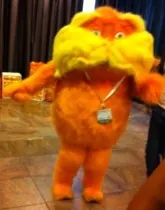 She excitedly tried to peer around me, pointing and exclaiming "guy, guy!" I always thought his name was Lorax, but apparently his name is Guy. After those waiting before us had their turn, I decided we should get a picture with him too. However, there wasn't a true line formed so it was hard to figure out when it was our turn. I did my best not to cut in front of anyone.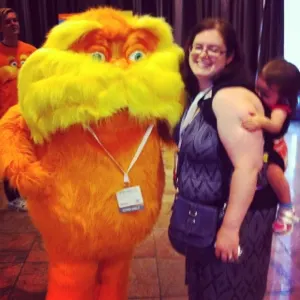 Unfortunately I mistook Rissa's excitement for wanting to get closer to Guy. As I approached him and put an arm around him, she started to cry. Her little finger nails dug into my arm as she clutched me in terror, hiding against my shoulder. See, I thought if he'd be scary to her it wouldn't matter the distance, but he was only scary up close.
I made my husband take a quick picture anyway.
All the way back to the hotel room Rissa went on and on about Guy and how mommy hugged him and she cried. Her story was adorably tragic and she still tells it a week later. I felt bad about scaring her – I really did! I thought it'd be a cute photo opp… at least we know to wait a few more years before going to any theme parks with costumed characters! (Or even Times Square… characters are everywhere down there, especially at night.)
After our 5 hour flight delay and getting home so late, I didn't even think about the packages that arrived while we were gone. As I went through them the following day, I opened up this…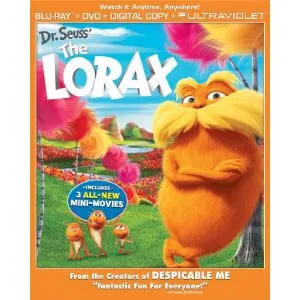 "Oh right, I'm supposed to review Dr. Seuss' The Lorax Bluray combo pack." I show Brian. "I hope she's not still scared of him…"
We showed her the movie case to which she excitedly exclaimed, "Guy!" She looked… happy. I mean, she was excited and asked to watch it… was this really the same child who was terrified of the Lorax up close and personal?
She enjoyed watching it with us (she's getting so much better at sitting through movies!) and would ask where Guy went when he wasn't on screen for awhile. There are a lot of great features included too, like the mini-movies! I think Rissa laughed the hardest during Wagon Ho! There are also games and behind the scenes features such as learning about adapting the popular children's book to a movie.
I'm really glad meeting the Lorax didn't scar her permanently… now if I could teach her to say Lorax…
Have your children met movie characters before? Were they scared?
Synopsis
The imaginative world of Dr. Seuss comes to life like never before in this visually spectacular adventure from the creators of Despicable Me! Twelve-year-old Ted will do anything to find a real live Truffula Tree in order to impress the girl of his dreams. As he embarks on his journey, Ted discovers the incredible story of the Lorax, a grumpy but charming creature who speaks for the trees. Featuring the voice talents of Danny DeVito, Ed Helms, Zac Efron, Taylor Swift, Rob Riggle, Jenny Slate and Betty White, Dr. Seuss' The Lorax is filled with hilarious fun for everyone!
BLU-RAY 3D COMBO PACK AND BLU-RAYTM COMBO PACK BONUS FEATURE EXCLUSIVES
Serenade — Two Bar-ba-loots — one love shy and the other suave and confident — battle for the heart of their would-be sweetheart with the help of a colorful cast of characters, including the Humming-Fish and Swomme-Swans.
Wagon-Ho—Two Bar-ba-loots take The Once-ler's wagon on a ride they won't soon forget.
Forces of Nature—Determined to scare The Once-ler out of Truffula Valley, The Lorax decides to create the illusion of ominous forces of nature.
MAKING OF THE MINI MOVIES—Go behind the scenes at Illumination Mac Guff to see the joys and challenges of continuing the characters' stories in the dynamic format of the mini movie.
DELETED SCENE
SEUSS TO SCREEN—A fascinating look into the translation of Seuss' iconic style from book into the big feature film canvas.
SEUSS IT UP!— A great tutorial on how to draw the Lorax, a Humming-Fish and a Bar-ba-loot in the unique Seuss style.
TRUFFULA RUN—The player moves left and right to avoid obstacles while attempting to pick up berries with modes for easy, medium and hard. As difficulty increases, the player will have more obstacles to avoid.
"LET IT GROW" SING ALONG— Karaoke-style sing along to the end credit version of Let It Grow.
FEATURE COMMENTARY WITH CO-DIRECTORS CHRIS RENAUD & KYLE BALDA
ONCE-LER'S WAGON— While the Once-ler is away peddling his wares, the curious forest creatures have fun with his belongings. Users can select an item for the creatures to mimic or play with and then watch the adorable antics of all the forest friends.
BONUS FEATURES EXCLUSIVELY ON THE BLU-RAYTM:
GET OUT OF TOWN—In this game, the player must help Ted navigate through town on his scooter in order to make it to the Lerkim and meet the Once-ler. At the end of each level, Ted must solve an obstacle puzzle to advance to the next section. There are three levels and three puzzles to complete to win the game.
O'HARE TV— Watch the Lorax with hilarious commercial interruptions courtesy of O'Hare TV.
EXPEDITION TO TRUFFULA VALLEY—Explore and navigate within the Truffula Valley to learn more about how the characters and creatures come to life.
ADDITIONAL EXCLUSIVE COMBO PACK FEATURES
· ULTRAVIOLET™—The revolutionary new way for consumers to collect movies and TV shows, store them in the cloud, and download and stream instantly to computers, tablets and smartphones. Currently available in the United States only.
· DIGITAL COPY—Viewerscan redeem a digital version of the full-length movie from a choice of retail partners to watch on an array of electronic and portable devices.
uHEAR™: Never miss another line of dialogue with this innovative feature that instantly skips back a few seconds on your Blu-ray™ disc and turns on the subtitles to highlight what you missed.
· pocket BLU™ APP—The popular free pocket BLU™ app for smartphones is now even better with newly updated versions for iPad®, Android™ tablets, PC and Macintosh computers, with features made especially to take advantage of the devices' larger screens and high resolution displays.
Advanced Remote Control: A sleek, elegant new way to operate your Blu-ray™ player. Users can navigate through menus, playback and BD-Live™ functions with ease.
Video Timeline: Users can easily bring up the video timeline, allowing them to instantly access any point in the film.
Mobile-To-Go: Users can unlock a selection of bonus content with their Blu-ray™ discs to save to their device or to stream from anywhere there is a Wi-Fi network, enabling them to enjoy content on the go, anytime, anywhere.
Browse Titles: Users will have access to a complete list of pocket BLU™-enabled titles available and coming to Blu-ray™. They can view free previews and see what additional content is available to unlock on their device.
Keyboard: Entering data is fast and easy with your device's intuitive keyboard.
______
Disclosure: We received the movie to review and no other compensation was provided. We had no idea we'd be meeting The Lorax but it sure added to the whole viewing experience!