When we went to visit my parents in January, there were a few things we brought along to leave there. Rissa and I stayed for a week so I knew we'd need more than what we normally pack for a weekend. And, since we'll be going there at least one weekend a month there's no need to keep dragging everything back and forth. One of the items I knew we would need was a baby/toddler bathtub. I fully planned on lugging ours with, but managed to forget it at home. We decided to just buy something to leave at my mom and dad's house.
We went to Walmart to get a tub and my husband says he found one from my favorite brand: Summer Infant. I was actually impressed that he remembered that I worked with them and which products we own are theirs. So I looked over the Cradling Comfort Baby Bath and put it in the cart.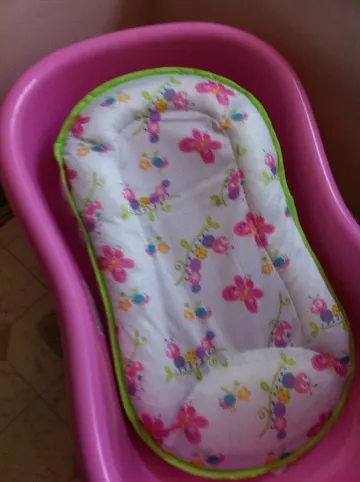 The Summer Infant Cradling comfort Baby Bath is designed to keep baby cozy, close and safe. The tub is level a d spacious for a toddler to sit in. There is a sling that can be placed in the tub or in a sink for small babies. It is padded for comfort and helps make the big tub less scary!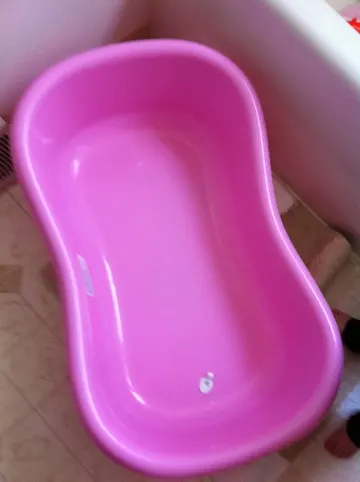 Rissa likes to play with the insert and will sit on it when it lays flat in the tub. I like this one much better than our first tub. Our first one from another brand is larger, taking up more room, but has less sitting room for Rissa. Since it was made with an incline there is barely extra space for playing. Rissa seems to enjoy bath time more since switching to the Summer Infant tub because there's room for her toys and to stretch out her legs and splash around. It fits nicely in our bathtub and is easier to fill with water. I also find that it drains better.
So, although I bought it to keep at my parent's house, I ended up bringing it back home with me!
Favorite feature: I like that it is level and fits well in our tub.
Least favorite: I don't know where to store the sling for now.
Conclusion: This is an ideal tub from newborn to toddler. It doesn't take up as much space as some others, it's level, it has plenty of room for bath toys, and it's easy to fill and drain.
So glad I bought it! (You can find it at Walmart for around $20ish)