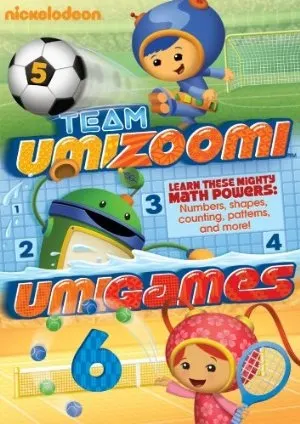 Team Umizoomi: UmiGames
Release Date: June 5, 2012
Join Team Umizoomi on four mighty math missions filled with exciting games, including the biggest sports event around – the Umi Games! To win the Super Sports Trophy they have to defeat the robot athletes in each event.
Episodes:
Umi Games
Boardwalk Games
Crazy Skates
Carnival
Nickelodeon's Team Umizoomi crew help teach kids numbers, shapes, counting and patterns throughout these episodes. I think it's a fun way to introduce math and other educational concepts to preschool aged children. I think my toddler is still a little young for this, but it's a good introduction. She is learning her colors and starting to count so she liked trying to count along and would identify colors excitedly. However, she'd get bored quickly and go play with something.
_____
Disclosure: we received a copy of this DVD to review; no other compensation was received.