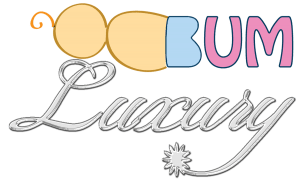 Bridget of Bum Luxury connected with me after reading my update on cloth diapering Rissa for a month. (Whoa time for more updates – still doing it! Loving it! Ha!) We chatted about cloth and I let her know I was going to be reviewing my FuzziBunz. Since she sells them in her newly launched store, she agreed to give one away! So, stay tuned for after my review!
One of the first cloth diapers I bought was a One Size (OS) FuzziBunz cloth diaper. I had read about them on a few blogs and they sounded like a good investment – a one size pocket diaper for about $20 that should last through potty training? And should fit my skinny minnie? Yes please!
I'm showing you these (not so great quality) photos because this is from the first time she wore her pretty FuzziBunz!
It's on her a bit loosely in these pictures as I worked on figuring out the right adjustment. I found the adjustment a little confusing at first for the elastic, but it's a great way to customize the fit once you figure it out! I like that each one comes with an extra set of elastic since that will probably wear out before the rest of the diaper!
Being a pocket diaper, it comes with two inserts (one's longer than the other). You can switch to the longer one for older, larger babies. You can use both for overnight, naps, heavier wetters. The microfleece pulls moisture away from baby's skin, which makes it a nice option for longer wearing (over, say, a prefold). It does look a bit ragged and pilled after several washings (or maybe that's just me…) You do need to get in there (in the back) to pull out the liner. This can prove to be gross and messy sometimes! Although, I've discovered I can shake it (vigorously) out into the pail.
I find it to be pretty trim for a One Size diaper. It has served us well for naps, car rides, and errands. The longest she's worn one is about 3-3.5 hours. I have not tried overnight yet. Why? Well, the tunnel is a bit tight just stuffing one insert in. I decided not to try stuffing more. So, if you or another caregiver has big hands, you might want someone else to pre-stuff it. I do use the inserts to boost our other night diapers, which works well for us!
Like every diaper we have, it can, has, and will leave red marks on Rissa. It seems like we just can't avoid this from happening no matter how loose or tight I put her diapers on her. But, she does not always have marks… it's weird.
The shell dries fast on the line and the inserts usually only need one dryer cycle – woohoo!
Here's a great overview of FuzziBunz One Size from Bum Luxury:
Adjustable: The FuzziBunz® One-Size includes button-adjusted waist and leg casings in addition to snap adjustments. The leg casings adjust to 8+ button settings and the waist adjusts to 4+ button settings.
Snug-Fitting: Superior adjustability means you get a snug fit every time.
Snaps: Sturdy snap closures can withstand 3+ years of use unlike Velcro-like alternatives.
Replaceable Elastic: Each diaper comes with a replaceable elastic kit that you can simply slip into the diaper. No seam-ripping or sewing required.
Colorful: Make your baby the envy of his or her playgroup with the most deliciously-colored diapers on the block! FuzziBunz® come in 14 scrumptious colors!
Dependable: FuzziBunz® don't leak when properly cared for, making them one of the most dependable one-size cloth diapers invented!
Trusted: Did you know FuzziBunz® were the first modern diaper? They were founded in 1999 and have been going strong since. You can trust that FuzziBunz® will stand behind its diapers for a long time.
So what do I really think? I think they are worth the investment to have a couple. I've come to love diversity in my stash. While these aren't typically my first grab, they aren't my last. I like these best when we are out and often pack both in the diaper bag (I have 2 total).
** Buy One! **
You can visit Bum Luxury to buy FuzziBunz cloth diapers – One size are $19.95 each and Perfect Size are $17.95 each. (Save on buying a bundle pack!)
Giveaway over
______
** FTC Disclosure: I purchased the above reviewed diaper with my own money. Bum Luxury offered to give one to a reader since I was planning to review my own diaper for you! I was not compensated in any other way for this post. The thoughts, experiences, and opinions included are entirely my own and may differ from that of others. I am not liable for any issues you may incur from use of said product(s).