We received Disney Frozen books to review.
Confession: We didn't see Frozen until it was released on Blu-ray/DVD. I pre-ordered it, so we watched it as soon as we got it. This was after Rissa met Elsa and Anna at Disney World during our #DisneyKids preschool blogger trip in March.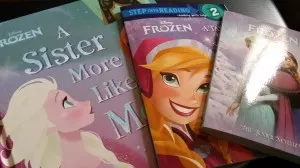 When I received the opportunity to review some of the books, I wasn't sure if they'd arrive before or after the movie. (They arrived after.) I mentioned something about getting Frozen books, to which Rissa asked why I was going to give her cold books.
Another confession: During the first half of the movie, I started to feel like I didn't get all the hype. I was feeling like I was missing something. That it was good, but not obsession-worthy (for me). I felt much differently by the end of the movie though and certainly after the fifth time I've seen it. Our house still hasn't reached a Frozen frenzy though.
Rissa is on the cusp of obsession, I think. She could cross the line at any time, but her interest comes and goes. After the second or third time watching the movie, she suddenly let me braid her hair. She alternated between Elsa and Anna braids everyday for at least a week. She started to randomly sing parts of the songs, including her "Let It Go / Frosty the Snowman" mash up.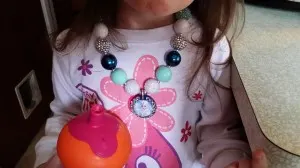 She got really excited about the chunky Elsa necklace I bought for her on Etsy and wore it all day only to refuse wearing it the next.
Yet, Frozen books are her favorites lately. We received a total of four different books. The only one we haven't read yet is the chapter book. She liked "A Sister More Like Me." She asks me to read "A Tale of Two Sisters" to her often. It's an early reader book that's a little above her current level, but the sentences are short and simple. She can basically "read" the story to me based on the pictures and being familiar with the storyline.
I noticed that she now recognizes the word Disney, which is awesome, and I think these books are helping her on her path to learning how to read. The read along book? Yeah, that hasn't left the car in…I don't know how long. I read it to her once when it first arrived, but then we let her take it in the car and played the CD. Now, every time we go somewhere she wants to hear the story read to her as she follows along in the book.
Hey, if a growing obsession with a movie and book helps her learn how to read, I'm all for it!
Have you read any of the books? I wondered how there could be so many variations, but they did a great job making the story simpler in the the stage 2 reading book. "A Sister More Like Me" focuses on just their relationship–their differences and why those are actually good to have.
Hopefully someday it'll be out on Android so we can get it, but they also have Frozen: Storybook Deluxe, an app available in Apple's App Store. This digital storybook introduces early readers to Disney's Frozen through all-new interactive features. You can flip it one way to hear Anna's point of view and the other way to hear the story from Elsa's point of view. It sounds really neat!
The books received:
Frozen: A Sister More Like Me: Explore a wintery world of magic in Walt Disney Animation Studio's latest film,Frozen. This jacketed picture book features an original story about Anna and Elsa, the film's two sisters, as well as illustrations by one of the artists who worked on the film.
Frozen Read-Along Storybook and CD: This USA TODAY best-selling novel tells the story of fearless optimist Anna who sets off on an epic journey—to find her sister Elsa, whose icy powers have trapped the kingdom of Arendelle in eternal winter. Encountering Everest-like conditions, mystical trolls, and a hilarious snowman named Olaf, Anna and Kristoff battle the elements in a race to save the kingdom.
Frozen: The Junior Novelization: This New York Times and USA TODAY best-selling novel retells the whole exciting story and features eight pages of full-color scenes from the movie!
Frozen: A Tale of Two Sisters: This USA TODAY best-selling novel retells the story of sisters Anna and Elsa in this 32 page Step Into Reading Level Two reader which brings the adventurous tale of Frozen to early readers ages 4-6.