I was in the mood for something different, something to go with the package of Chinese rice I had picked up while grocery shopping. After making these, I wished I had picked up egg rolls too. We all liked this, Hubby even went back hoping to find more.
Part 1:
4 chicken breasts
1/2 cup flour
1 tsp salt
2 tsp garlic powder
1/4 cup olive oil
Heat your pan with 1/4 cup of oil in it on med-high. Put the flour, salt and garlic powder into a plastic bag, add the chicken and shake, I did one breast at a time. Once the oil is hot, carefully add the chicken. Cook for 5 minutes on each side. You don't have to fully cook the chicken as it has time to finish cooking later. Remove after cooking both sides.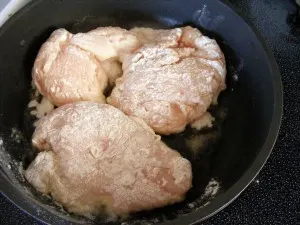 Part2:
1/2 medium onion
1/2 large green pepper
3 tbsp flour
3 tbsp olive oil
2 tbsp paprika
Cook onion and pepper until tender, then add the rest of the ingredients. Make sure to scrap any little pieces from the bottom of your pan as they will add flavour. Bring to a boil, then turn down the heat to simmer and thicken up a bit.
*Optional: You can take the sauce out, put it in a food processor to make it more liquid than chunky. I have done it and I have left it alone, either way it taste the same.
Add chicken to the sauce in pan and continue to cook until chicken is cooked through.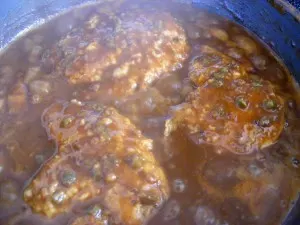 The sauce thickens up quick a bit even after removing from heat. Enjoy!