On Monday we went to the coolest live kids show ever. Totally worth the money I spent on tickets! We've had fun at other shows but honestly this one was the most fun of all. It helps that my daughter is a huge fan of Yo Gabba Gabba and has been for about a year. (Brobee birthday cake, anyone?). When she realized who was on stage her little 2 year old mind was blown.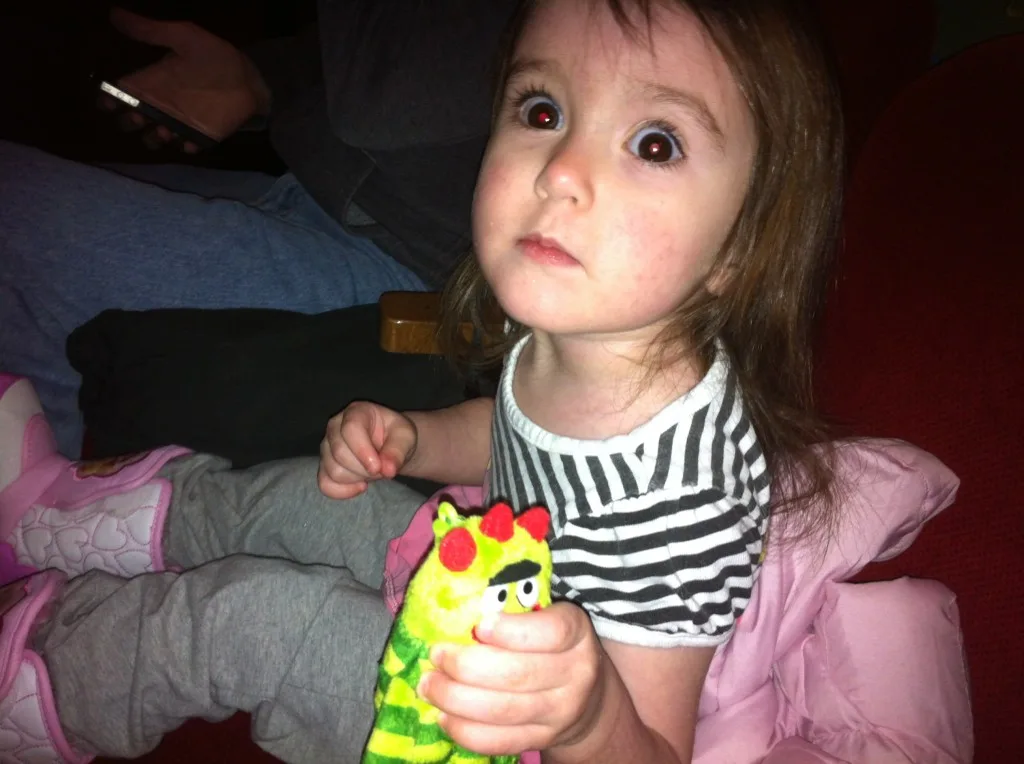 The Milwaukee stop of Yo Gabba Gabba! LIVE! Get the Sillies Out 2013 tour took place at the Riverside Theater. It's a great venue for providing an intimate setting. The sound quality is superb and the seats are comfortable. Unfortunately there wasn't a whole lot of room for the kids to dance and see the stage. Parents mostly stood up holding their children. (I got in a decent amount of steps from dancing in place with Rissa on my hip!)
I think they could have filled a good chunk of the BMO Harris Bradley Center but it wouldn't have felt as intimate. The shows were packed though!
Rissa didn't fully grasp what was going on until the show started. When DJ Lance Rock came out she looked surprised and started waving. When her friends (as she calls them) moved she looked shocked. That look of "oh my gawd is this really happening?" She shook with excitement pointing everyone out to me. I also got lots of random hugs and kisses from her throughout the first couple songs.
I was thrilled that she was having a blast.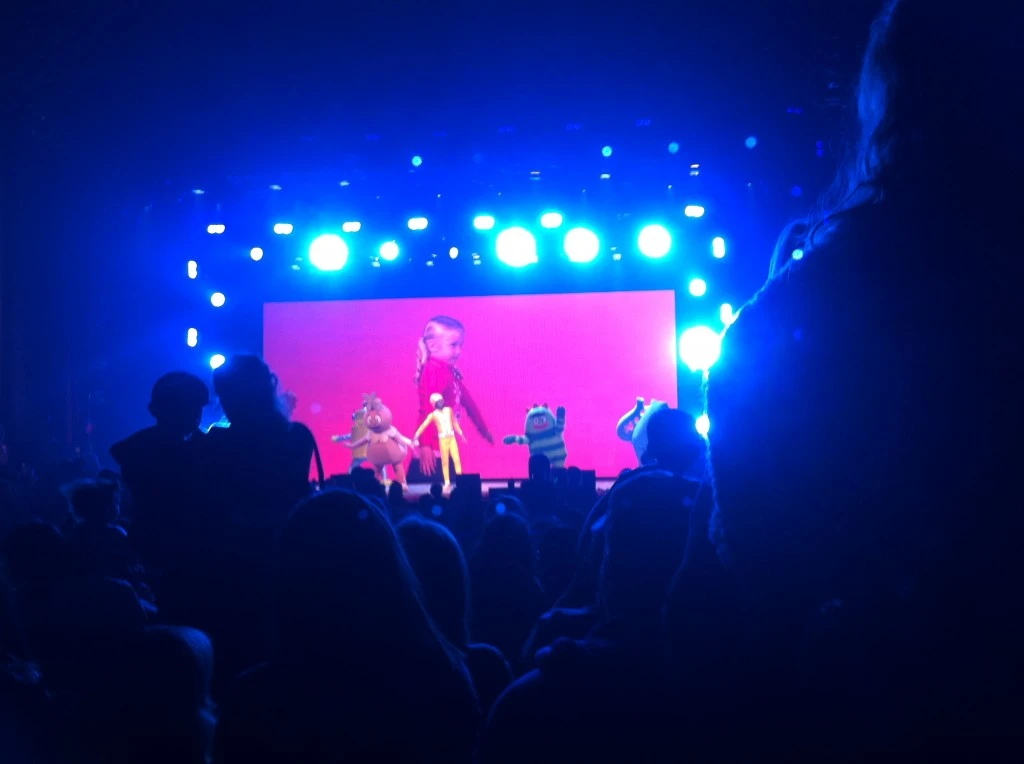 They did a great job turning the stage into Gabba Land with use of a screen behind them. It was like being in the show! They performed several of our favorite songs such as the Name Game, I Like Bugs, Peekaboo, There's a Party in My Tummy, and Get the Sillies Out. A local musician, Mike Park, performed for the Super Music Friends Show. Biz Markie came out for Biz's Beat of the Day. We were looking forward to a fun special guest to teach us a Dancey Dance, but there wasn't one performed.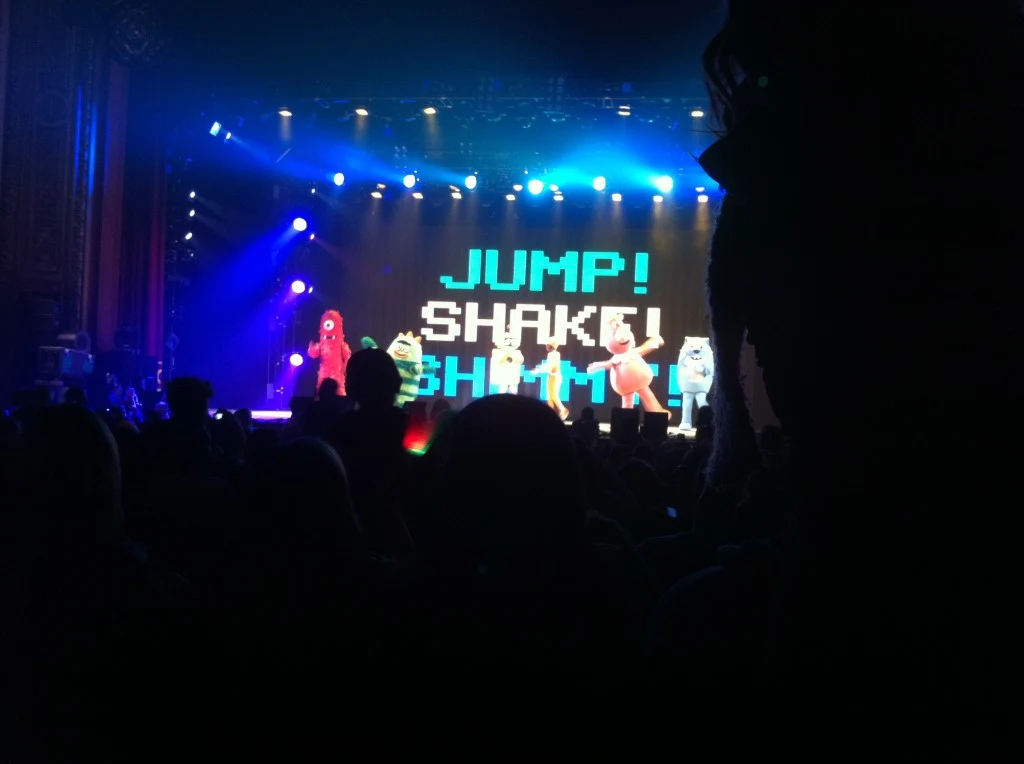 The show lasted about 90 minutes with an intermission. It never felt that long to us but was about perfect for Rissa. She was definitely getting a little tired at the end.
After the show we went around the block to Rock Bottom Brewery for the VIP Gabba Party. It was set up in their basement with healthy snacks, music, and photo stations. I was a little surprised by the venue, but knew space was limited at the Riverside for the meet and greet.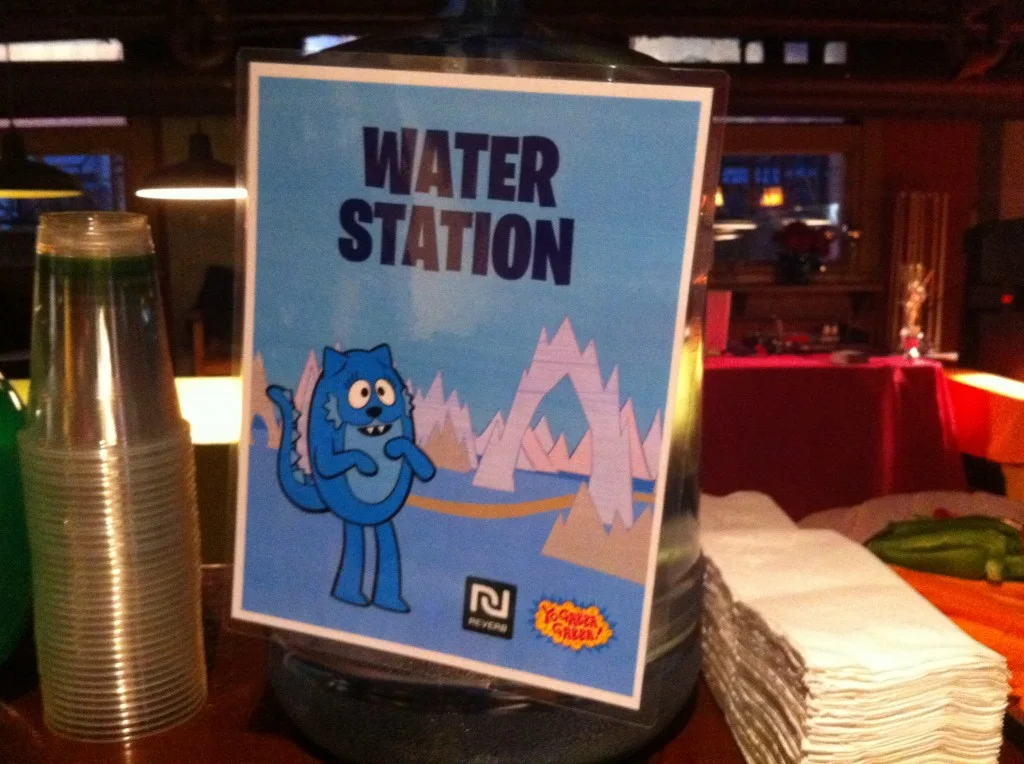 Each character had their own little space to take pictures which allowed for more photo opportunities than just a group shot. We weren't sure how Rissa would react since she has gotten scared of costumed characters in the past. She was a little nervous and said she was scared of Plex. Toodee had a short line so we asked about seeing her. Rissa agreed but only if mom or dad joined her. As she got close to her, Rissa told daddy that Toodee was big and shook in his arms. After giving a high five she called Toodee friendly.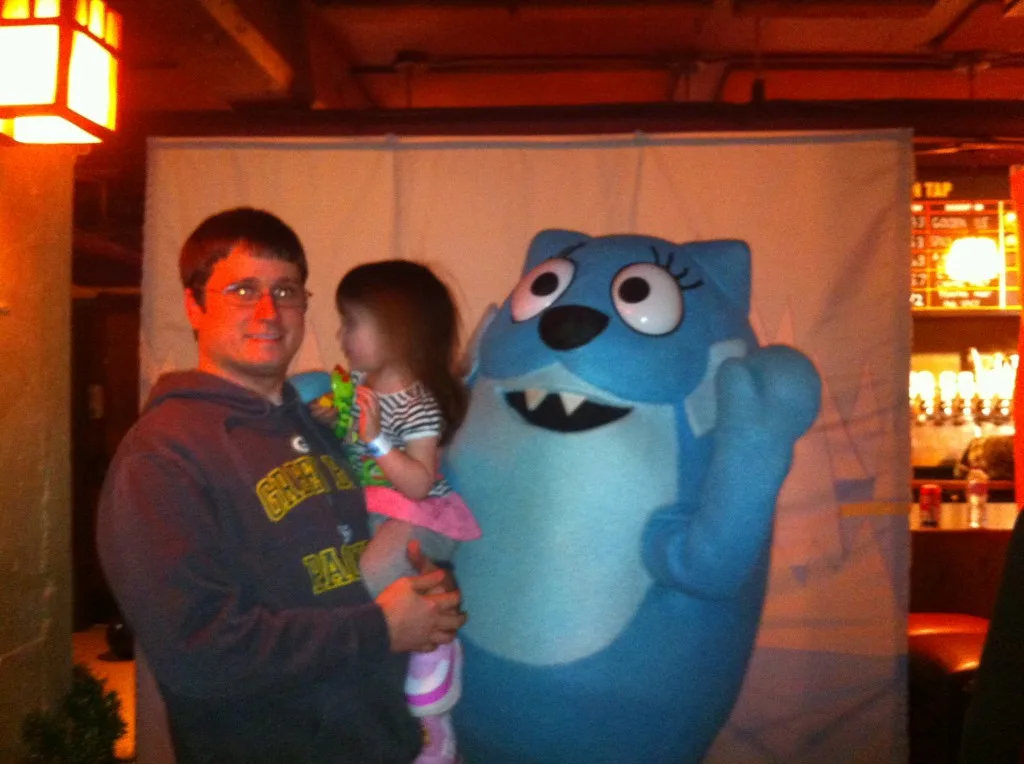 Next her and daddy got a picture with Muno. Then I took her by Brobee. She showed him her little Brobee she brought with and was really excited. She asked to go by Foofa next. I set her down and she slowly went up to her and they hugged! Lastly her and I got a picture with Plex. She was a little scared but gave him a high five.
They are very large characters in person!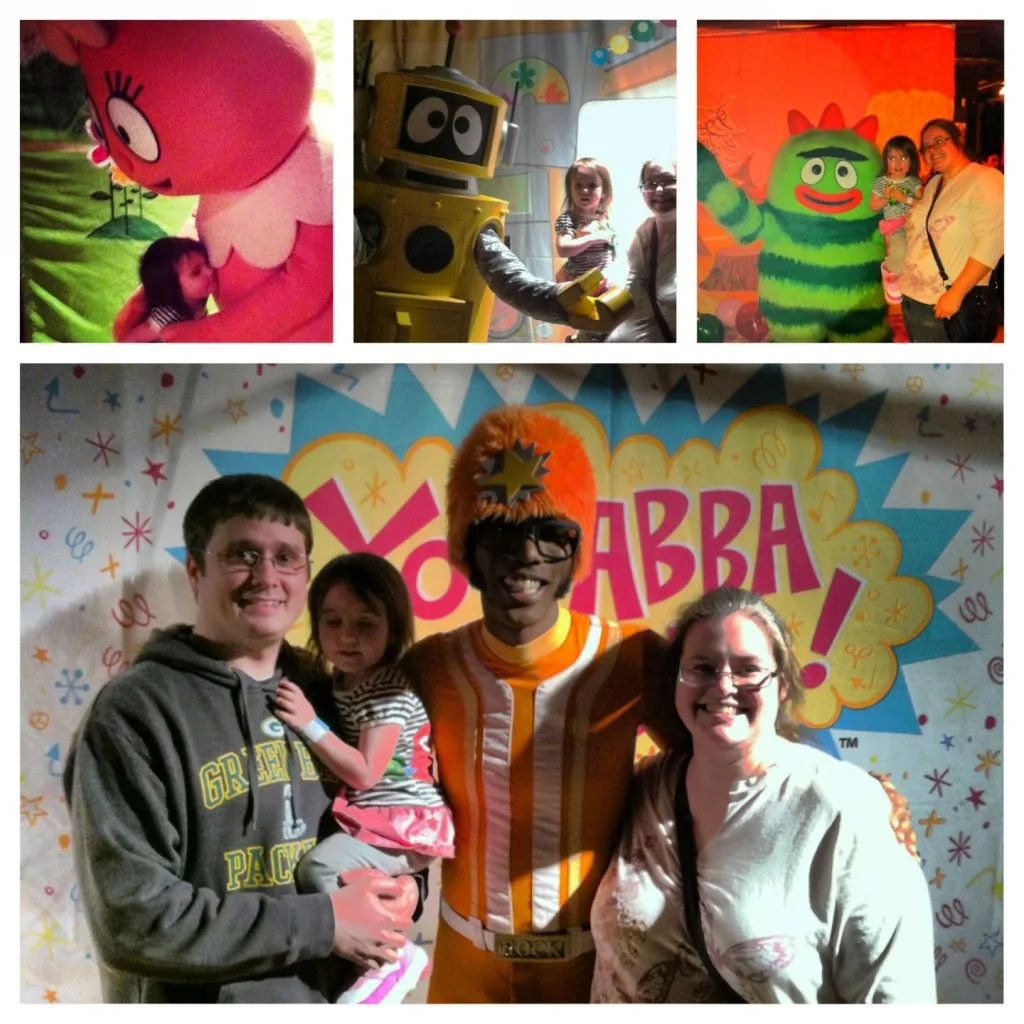 Then we all had to wait for DJ Lance Rock to arrive. We got in line and were able to get a family picture with him. (Well, minus Xander who was at Gramma's house.) As I carried Rissa away, DJ Lance said good-bye to us. Rissa waved but her lower lip started to tremble then her whole face fell. She was crushed. I held her as she cried – sad to leave her friends.
What was really sweet is that DJ Lance saw and came over. He patted her back and reassured her that they'd come back again. She was taken by surprise and cried more! We thought it was really nice of him to come over! After she calmed down we got our jackets and headed out. She waved at DJ Lance and he waved bye to us. This time no tears!
It was really cool to meet the characters and get pictures with them. Unfortunately the lighting in that basement room was horrible. Our pictures don't look very good. We had been told we couldn't bring a professional camera (yet we saw a couple people with DSLR cameras). So our phone cameras plus bad lighting equals poor pictures. At least the memories are priceless!
During intermission the screen offered green tips, pictures of characters, and advertised their new juice boxes. I was surprised that their new juice wasn't served at the show or VIP Party.
Here's more info in the VIP Party Package in case you consider getting it:
Gabba Party Packages!
One (1) AWESOME Ticket in the first 15 Rows.
One (1) pass to "Get the Sillies Out" in the private VIP room featuring a super fun party with the Gabba Gang (costumed characters)! Includes music, dancing, healthy snacks and refreshments.
Hassle-Free Merchandise Shopping. Merchandise table located in the VIP Room.
Photo Opportunity. This time around our Gabba Friends will be available for individual pictures instead of everyone waiting for one shot with the entire gang. More photos, less waiting, more fun!!!!!
On Site Yo Gabba Gabba! VIP host and Party Patrol to make sure your experience is… AWESOME!!
_______
Disclosure: We bought our tickets the day they went on sale. We were provided VIP passes in exchange for promoting the show coming to our area. Our seats were not upgraded to the party package ones, but we still had great seats!