This is the longest trip away from home for Rissa yet. So far we've only done one overnight stay, this time we're doing two nights away. I seriously can't believe how much more I pack because of her!
Stroller
ERGObaby carrier
Pack n Play
3 days worth of cloth diapers
2 outfits per day for her
An extra outfit for me
Toys
Baby snacks
Wet bag
Booster chair
And I still managed to forget her Sippy cup…oops!
Though why I packed toys, I don't know. She's currently watching her toes wiggle and twisting her hands like she's installing a light bulb.
We're both fascinated.
Anyway, my WP app let's me blog a little via phone… So here we are.
I'm entertaining her with a soft book with a mirror. Oh how she loves the baby in the mirror!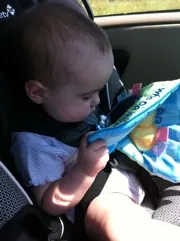 Do you over or under pack? I always seem to over pack!