Generally if someone started talking about gifting the flu, MRSA or plasma to a friend or family member I would look at them funny. I mean, how gross is it to want to gift cells and diseases? Well, for those with a quirky sense of humor and an appreciation for unique gifts, GIANTmicrobes are just what the doctor ordered.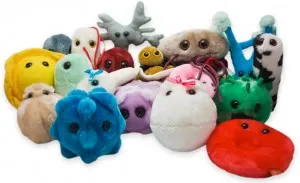 I kid you not, I giggled like an immature school girl when I overheard someone else referring to herpes as cute. When you make something plush, it's no longer as scary and frightening. It can be downright cuddly!
These fuzzy microbials are not downplaying the seriousness of what they represent, but can offer a fun and engaging way to an educational discussion. Kids would be much more interested in talking about these, don't you think? I still fully intend on using the plush egg and sperm for The Talk. You can bet my kids won't forget that lesson!
GIANTmicrobes features a vast array of characters, but for the holidays they have a few ornament gift boxes you will want to check out: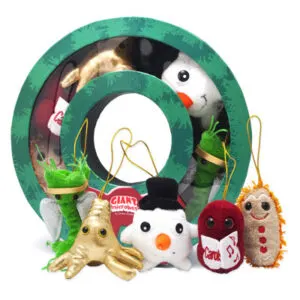 And now, here are my top 5 suggestions for that hard-to-shop-for person on your holiday list:
Bedbug
Brain cell
sperm and egg cell (the magnetic combo preferrably)
Chicken Pox
Common cold
Okay, so maybe they aren't for everyone, but they make great gag gifts!
_____
Disclosure: We received a plush microbe. Seriously, what's more fun than that? Images belong to GIANTMicrobes.