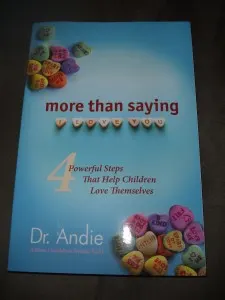 Many women I know struggle with their self-image, myself included. In fact, I've been working on a ver personal (and lengthy) post on the subject. I hope to share it soon. One thing I know is that I want Rissa to value herself and not encounter the same self-esteem issues I did growing up. Until I read More Than Saying I Love You (Amazon link) by Dr. Andie, I thought the answer was to help her maintain a healthy weight…not be "the fat girl" like I was…
About this book:
Every child is born a loving being. They don't know any different. Yet outside influences can erode this birthright of love. Behaviors can eventually develop into unloving behaviors toward themselves and others. Just saying "I love you" doesn't automatically create children who love themselves.
This book is teaching me so much more. It's not a terribly long book, which makes it nice to read through. Dr. Andie shares letters she wrote to her daughter as well as a discussion her and her daughter had when she was finishing high school… her daughter said Dr. Andie gave her a great gift – the gift of self love.
I thought saying "I love you", hugs, and taking care of basic needs expressed love. While they do express love and teach my daughter that *I* love her, I now realize they aren't teaching her how to love herself. Dr. Andie provides ways to help you teach this. It's hard to explain (and without giving it away – it's really best when read as a packaged deal!), but it's about teaching them to see their accomplishments for themselves. Things like…. you should be proud of yourself rather than focusing on what my thoughts and approval are on something she has accomplished.
I definitely found it enlightening and I think many of us could use the advice and suggestions on how to teach our children to love themselves. If we love ourselves, we can love others. Loving ourself helps with confidence. Confidence helps with ambition and success… or so I think. I'll continue to reference her book as Rissa grows. Right now, I focus on SHOWING my love to her. But as she continues to develop (especially her language skills) I want to make sure she is happy about herself.
I recommend this book to everyone – especially if you've struggled with your own self love/image/esteem/image like I have.
Giveaway over
___________
** FTC Disclosure: I received the product(s) mentioned above free of charge by the company or PR representative in order to conduct an honest review. I was not compensated in any other way for this post. The thoughts, experiences, and opinions included are entirely my own and may differ from that of others. I am not liable for any issues you may incur from use of said product(s). See full disclosure information. If you have any questions you can contact me or leave a comment.