My daughter likes to be close to us. She's been that way since she was just a few weeks old; she hated to be put down! This is perfectly natural – why wouldn't a baby want to be held close? The thing is… I only have two hands. It was only an issue because at first I didn't know how to deal with it. I had to get some things accomplished… like going to the bathroom and eating! One very helpful solution was babywearing. It kept Rissa close and secure while letting me do some stuff. I still don't know how some people do everything this way, but it helped a LOT.
I don't wear Rissa quite as much any more simply because she's more mobile and is a little explorer. It's still my go-to for high stress situations though and very large crowds because it's easier to calm her, keep her close, and let her nap and/or nurse. I'm still wearing her on the front (she's not even 20 pounds yet!) but should start putting her on our backs. The Boba Carrier 3G in Soho I received to review got a good testing though, even if it was just front wearing.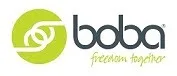 Boba Carrier 3G Features: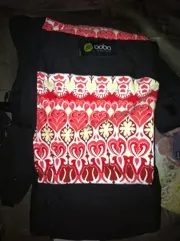 Intended for use with babies and children 7-45lbs
100% Cotton
Front and back carry options
Removable sleeping hood
Adjustable sleeping hood, adjusting in length to fit growing babies
Zipper pouch may be used to store your hood when not in use
Comfortably fits heights 5'0" – 6'3"
Waistband range: 25" – 58"
Additional adjustments for easier fit & breastfeeding
Patent-pending removable foot straps
Elastic bands neatly roll up straps
Shoulder strap holders keep purses and diaper bags in place
Easily adjustable chest strap
Uniquely designed to "hug" your child
Converts to an infant carrier without an insert
Extra head support adjustments for infants
Body of carrier rises 2-3" higher than other brands
Multiple pockets for on-the-go storage
High quality military grade buckles
Our Experiences:
When I first put the Boba Carrier 3G on, I needed my husband's help to adjust the straps and make sure everything was buckled right. I liked that there was plenty of room on the waist belt for me. Being plus sized can create issues with this. My other soft structured carrier was purchased in an "up" size to get it to go around my waist without an extension belt. I was still near the end of that one's range. This one has more room to go around a bigger waist without ant extensions.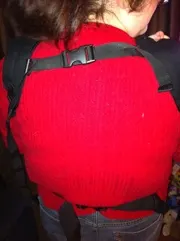 While I liked how there's an adjustable strap on each side of the buckles they weren't easy for me to reach. I could get at the waist ones okay, but I had a hard time with the back/chest strap. I did like that I could adjust the left side better if it was feeling off rather than tightening the entire thing across. Though I couldn't get the straps to run parallel to the floor. I was having trouble getting the shoulder straps right for me – the way the went around my shoulders, the width in back, and how close Rissa was brought to me. But, I've grown used to my other carrier already adjusted for me, by me!
The material is thick and feels durable and sturdy, yet soft enough for baby girl to hangout in. We didn't need the foot straps because her legs aren't long enough yet, but she carried them around for a bit. The design of this carrier makes it easy to fold. It can be folded and tucked out of the way while the waist belt is still on too.
I didn't get a chance to play around with the newborn settings much, but you are able to adjust the body of the carrier to carry a newborn properly without an insert. I very much disliked the extra work and difficulty it was to get Rissa on when the newborn insert was involved with our other carrier. The option to carry a child 7-45 pounds with one carrier and no extra pieces to buy (and keep track of) is really appealing. There are some pockets on this carrier, but I honestly didn't know what would fit in them. The pockets are small – slim and shallow. I could slide my fingers in, but they aren't deep enough for me to trust my phone not to fall out.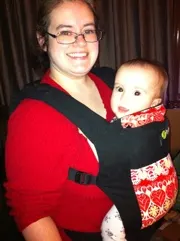 The Boba does adjust for different body types. This carrier was used by three different sized people: me, my husband, and my mother-i-law. I had worn Rissa in it a bit after it arrived, which was shortly before I was in the hospital for surgery. The night of my surgery was very rough on all of us, especially baby girl, because the nurses said I wasn't able to breastfeed due to my anesthesia medication. Brian spent the entire night wearing her in the Boba. She eventually fell asleep in his arms (she was too upset to put her in the carrier while she was still awake). He was looking uncomfortable and unsure how he'd survive the night holding her. I was able to get the carrier on him and over her while she slept! (Usually you try to slip a sleeping baby OUT of a carrier, not in!) This definitely helped take the strain off his back and shoulders. (Unfortunately we weren't able to get a picture of him wearing her.)
The next morning I wasn't cleared to nurse yet. Rissa struggled with seeing me and wanting me, so my mother-in-law wore her and they went walking around the hospital to occupy her as well as for her to take her morning nap. The the other night when Rissa was at Gramma's house while we had a date night, we left the Boba with them just in case. My mother-in-law used it to calm Rissa as she got fussy as it neared bedtime.
Final thoughts: The buckles may take some practice and time to adjust the best for your fit. It's great being able to carry a newborn without an insert – the insert was a pain for me. It folds up easily and neatly. The foot straps sound like a great addition for older babies/toddlers. It has a lot of great new features and I would buy this for $125. If you are a babywearer, you'll get your money's worth out of this!
Stay connected with Boba on Twitter and Facebook – Share your love for babywearing!
Want to buy a Boba Carrier 3G? They are available for $125 at Bobafamily.com
______
FTC Disclosure: I received the product(s) mentioned above free of charge by the company or PR representative in order to conduct an honest review. I was not compensated in any other way for this post. The thoughts, experiences, and opinions included are entirely my own and may differ from that of others. I am not liable for any issues you may incur from use of said product(s). Images used are owned by me or provided with the company's permission unless otherwise sourced. See full disclosure information. If you have any questions you can contact me or leave a comment.