I've been unsure about taking my daughter to the movie theater, but I survived our Mommy-Daughter Date. In fact, I think we'll do it again soon.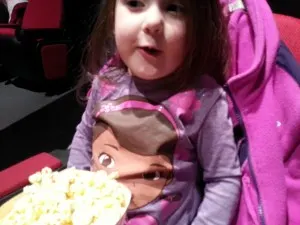 Since Xander was born, Rissa rarely gets time with just me. Sure, the kids are with me most of the time and we do a lot together as a family, but one-on-one time is important too. The kids do get one-on-one time with Daddy at least once a week, which is awesome. Anyway, so I wanted to plan a date with my daughter. I figured I could take her to her first movie! (I have NO clue when I went to my first one.)
Last weekend I saw that Frozen was playing in 3D at the Rivoli Theater in Cedarburg. For those of you not familiar with it, they show movies after they are done with their main theater run. Most of the time they have been newly released on DVD. It's cheaper than the regular theater. A lot cheaper, making it a great family night out activity.
The movie starts at 7pm every night and there is a 3:30pm matinee on Saturdays and Sundays. Regular movies are just $3.50 (with $2 Tuesdays) and 3D movies are $5 (but you'll need cash!). Popcorn and other snacks are reasonably priced too. I actually bought a small popcorn and a bottled water for less than $5. Whoa. I know.
It might seem crazy that we went to see Frozen after buying it and watching it several times already. But, I thought seeing it in 3D would be neat. Plus, taking her to a movie we'd already seen was kind of like my safety net. I knew she liked Frozen and if we had to leave early, we already saw it.
Rissa was excited until we walked in. She peaked into the theater as we got in line for popcorn. I looked down and saw her frown. "I wanna get out of here!"
I calmed her down and reassured her it was okay. I coaxed her towards the popcorn, which she specifically asked for before we arrived. I already paid and hoped to at least get her through the opening number. We talked about how the screen is like a gigantic TV and how fun it'd be.
At this point she still had no idea what movie we were about to see. I told her it would be a surprise.
After getting our treats, a nice gentleman informed me there were booster seats along the back wall. I love that they are available for use! Another woman complimented me on smart thinking to bring a booster. I couldn't take credit though.
I told Rissa she could pick our seats. She walked in the door and went for the second to last row. We got situated, then Rissa leaned over to "tell me a secret" (it's how I explained needing to whisper).
"This place is amazing!"
She was thrilled, sitting in her booster seat, eating popcorn and watching people come in. She was excited about 3D glasses too. Then she points at the screen and says, "Mommy, we've seen this before."
"Those are just ads, hun. You're right, we've seen some of them on TV."
"Is this the movie?"
"No, not yet. It'll start soon."
She became apprehensive when the lights were turned down. She covered her ears when the previews started. I wasn't sure we'd make it to the start of the movie. Rissa asked if any characters would be coming out. I explained it wasn't a stage and there wouldn't be any characters coming out. She relaxed a bit until the old timey Mickey Mouse short. The 3D freaked her out a little. She thought it was real and ducked when the airplane flew toward us. I reassured her and told her to take off her glasses and look around. She wasn't totally convinced… especially not when they made it look like the characters were ripping through the movie screen and coming out onto a stage.
This child must have thought I was the biggest liar. Stage, check. Characters coming out, check.
Her excitement and her uncertainty came and went in waves. One minute she'd claim how awesome it was, the next she was begging to leave.
The movie finally came on. After a few notes into the opening music she says, "We have this one already." A moment later, "Frozen!"
Her hands finally came down from her ears and she told me it wasn't too loud anymore. She sat very well through most of the movie. I had to remind her several times not to yell, but I don't think we bothered anyone. There were a lot of kids there and it was hardly silent. I mostly didn't want her shouting spoilers just in case someone there hadn't seen it yet. In the last 20 minutes or so she got antsy and tried to slink out of her seat a few times.
All in all, I thought it was a success! She sat through it much better than she does at home. I'm not sure she would have been ready any sooner than last weekend though! Afterwards we walked down the block to The Chocolate Factory for ice cream.
I asked her to go out with me again for a movie and ice cream.
She said yes. ;)