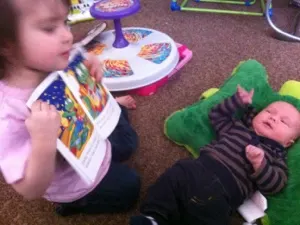 My daughter loves to read. She gets excited about new books and can't wait for mommy or daddy to read them to her. Sometimes Rissa can't even wait for us to leave the store before begging to be read to. More and more she looks through them on her own and she's even started "reading" to her brother. We offer a variety of books and let her pick out some all on her own. Her bookcase is stuffed full! I'd get rid of some but her favorites rotate, plus baby boy will have a chance to enjoy them too.
On Christmas morning, among a sea of shredded wrapping paper, Rissa opened a very unique book titled, Who Loves Aerissa and Xander?
"Rissa me Aerissa!" she exclaimed excitedly.
I wish I could have captured the look on her face but, alas, she was too quick for me.
As I worked on packing up to drive about 3 hours to my parents' house, Brian read the new book to Rissa.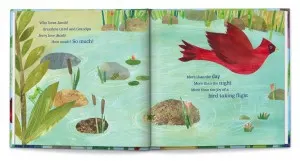 Who Loves Me? example pages.
With each page, my children were reminded that someone loved them. While this book can be personalized for one child, twins or siblings, there's only room for six people (or pairs like grandma and grampa) to be listed. We didn't want any family members feeling left out if we only included a couple aunts and uncles, so we stuck to the basics…
Mom
Dad
Gramma M
Grampa M
Gramma Z
Grampa Z
Besides reading the story with Daddy. Rissa enjoyed sharing her new book with her grandparents so they could read it to her too! The drive to my parents' went quickly since she was reading her own version of it out loud in the backseat. (Honestly, her recollection of each page along with the illustrations was pretty darn good.)
The pictures are beautiful and the book is good quality. (I know, I used to work in a book factory during college!) Everyone who's seen Rissa and Xander's special book have asked about where we got it. I foresee more personalized books in the near future! It's truly a thoughtful and meaningful gift that makes kids feel special.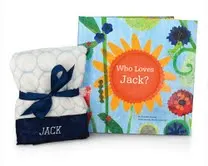 I See Me also offers personalized gift sets that include a book and a blanket. (Great baby shower gift if the name is known or a Sip n See party gift instead?)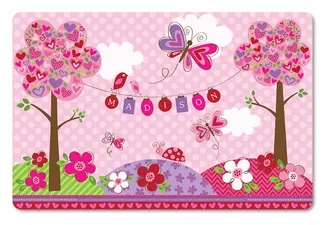 They also have personalized place mats!

1/31/13 is the last day to order in time for a Valentine's delivery. Because a book about love is the perfect V-Day gifts for the kids! Use this discount code "wholovesme" for 15% off the Who Loves Me book, gift sets, and place mat!
Connect with I See Me on Facebook, Twitter, and Pinterest.
_________
Disclosure: We received a book for review.