This weekend I decided to try the meatball recipe I received in my Johnsonville Italian Sausage kit that I got through SheSpeaks which included coupons to get free sausage to try and review.
Normally we buy frozen meatballs, but I should start to cook my own more often. Yummier and cheaper! While I do love meatballs, I usually have ones made from ground beef or turkey, not sausage.
Johnsonville Italian Meatball Recipe

Ingredients:

1 egg, lightly beaten
1/3 cup dry bread crumbs
1/4 cup grated Parmesan cheese
1/4 cup milk
1/4 cup finely chopped onion
1 pkg (19.76 oz.) Johnsonville Mild Italian Sausage Links

Directions:

Preheat the oven to 350 degrees Fahrenheit.
Combine everything except the sausage in a large bowl.
Remove sausage from casings.
Add sausage to the mixture and mix well.
Shape into 20 meatballs.
Arrange in shallow baking pan.
Bake for 20 minutes or until cooked through (160 degrees Fahrenheit).
Serve with spaghetti or however you choose.
In Action
Ok, so that was their instructions (although I paraphrased the "combine" step). Here's how it went down when I did it!
I gathered up all my ingredients and measuring cups.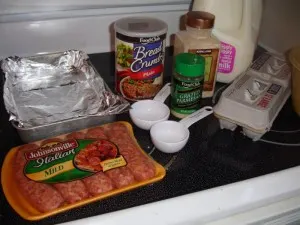 Using a fork, I lightly beat the egg. I always put the egg in the bowl before any other ingredients in case there are any runaway pieces of shell. Then I combine the rest of the mixture. I wondered how Italian bread crumbs would taste instead of regular, plain ol' crumbs, but didn't have any on hand to experiment with.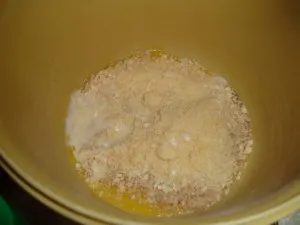 Then I slit the casings and extracted and squeezed the sausage out. It occurred to me that I could have gotten the bulk sausage (not in casings), but I had gone by their recipe. In all honesty, I've never liked mixing meat with my bare hands…
Anyway, I rolled them into 12 meatballs instead of 20. I like mine a bit bigger, what can I say?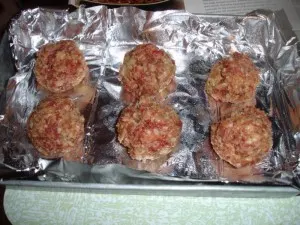 I stuck 'em in the oven…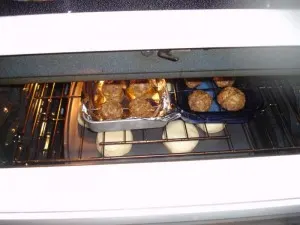 Since I made mine bigger, I let them bake for a little longer than 20 minutes…
And decided to bake some biscuits too. (Yes, Pillsbury Grands) I brushed some melted garlic butter over them before they joined the meatballs in the oven.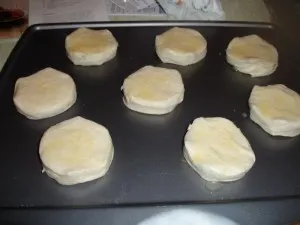 Added them to spaghetti and we enjoyed a yummy dinner!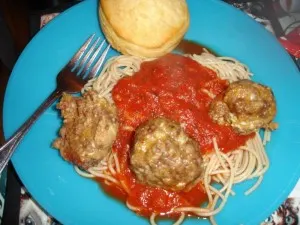 I still wasn't used to the sausage flavor when I ate my meatballs, but they were good. They also warmed up fine today for lunch!
** FTC Disclosure: I received the sausage mentioned above free of charge by the company or PR representative in order to conduct an honest review on the SheSpeaks message board. I was not obligated to blog about this, but thought you might enjoy it! I was not compensated in any other way for this post. The thoughts, experiences, and opinions included are entirely my own and may differ from that of others. I am not liable for any issues you may incur from use of said product(s).