Welcome to week 12 of the Breastfeeding Blog Hop! I'm honored to be this week's guest host!
A quick glimpse at who I am, in case this is your first visit:
About me: I'm Darcy, a part-time WAHM of a 4 month old girl. We've mostly been exclusively breastfeeding. Unfortunately my daughter had to have a few bottles of formula when we had a couple days of latch problems and I didn't have a pump yet. Overall I'm loving the opportunity to be home and nursing her!
When to Wean My Nursing Baby?
Truth be told, I don't want to think about weaning. I mean, sure, I don't want a teenager hangin' off my boob, but… it will be the end of our special time.
It'll be just another sign that my baby is growing up so fast.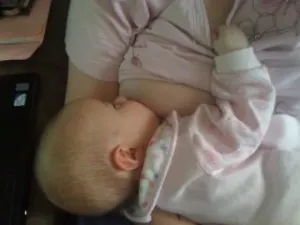 Before I got pregnant, I always figured I'd nurse for the first six months. During my pregnancy I thought we'd go nine months to a year. After she arrived, I decided a year would be the best as long as she didn't strike or wean herself.
Now, after more reading and research, I'm comfortable with up to two years. Honestly, I used to think that was strange. (No, I was never rude to anyone about it!) But now, I'm a bit wiser about the miracle of mama milk.
After last week's discussion on starting solids, I've decided to give Rissa the reins… so it will be up to her.
Oddly enough, there are moments I do wish I was "free" from nursing. But those thoughts are fleeting and like to sneak in when stress gives me a moment of weakness. The rest of the time I love it.
I'm in no hurry.