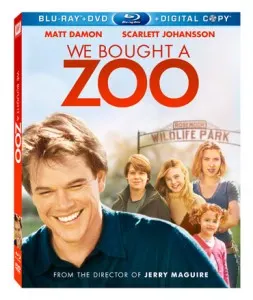 We Bought a Zoo
Blu-ray & DVD Release Date: April 3, 2012
Rated: PG
Synopsis:
Benjamin Mee (Damon) is a Los Angeles newspaper columnist and adventure writer who, as a single father, faces the challenges of raising his two young children. Hoping that a fresh start and a new life will restore their family spirit, Mee quits his job and buys an old rural house outside the city with a unique bonus feature: a zoo named the Rosemoor Animal Park, where dozens of animals reside under the care of head zookeeper Kelly Foster (Johansson) and her dedicated team. With no experience, limited time and a shoestring budget, Mee sets out with the support of his family and the local community to reopen the zoo. Now, Benjamin is no longer reporting an adventure story; he's living it in his own backyard.
Why You Must See This!
I looked forward to watching this because it looked good – it had a good cast, animals, and some silliness to it. I mean, who buys a zoo? Well, apparently Benjamin Mee. In real life. After watching I wasn't surprised it was based on a true story. With an element of you can't make this stuff up mixed with honest emotional turmoil that the audience can identify with, it pulls at your heart strings and draws you in.
At the start you learn that Benjamin was a journalist that went all over the world, even interviewing threatening dictators. He abruptly switches to one of the most difficult jobs of all – a single dad. We learn that his wife passed away several months before but without a lot of detail. We assumed it was cancer that took her. One thing is very clear, the family is hurting in their grief and they do not have it all pulled together. They all attempt to cope with their loss in very different ways, but it is clear that Benjamin and his oldest child, Dylan, are struggling the most. I was surprised at how well his daughter was handling everything, though it seemed she had an easier time communicating her feelings to her father.
I was disappointed in Dylan's school as it appeared they did little to try and help him deal with his feelings. His emotions were coming out in his artwork and said loud and clear that he was full of hurt. He acted out in other ways too, such as stealing, which ends up getting him expelled from school. This coupled with Benjamin's difficulty with going anywhere that reminded him of Lily, his dead wife, pushed him to look for a new place to live.
And that some place turned out to be a zoo. Some of the logistics of how and why escaped me, but it was a new start for their family. The little girl loved it, the older boy hated it. Benjamin was convinced they needed this and tried to make it work so they could reopen the zoo in July.
There were a lot of things that happened along that path that challenged the family emotionally and financially. One issue being what to do about an elder tiger that refused to take his medicine. He showed signs of suffering and the staff urged Benjamin to give the vet the okay to put him out of his misery. Benjamin struggled with this believing the tiger would get better. I felt he was connecting the tiger to his wife and this made it hard to let go.
As they prepared for inspection to see if they could reopen, Benjanin learned that he can't run from his feelings. He still missed his wife and his children still missed their mother. But, they could still move on in their lives. I really enjoyed this film. I felt drawn in and rode the emotional roller coaster along with them. I literally had to fight myself not to cry several times. Only distractions from the movie helped!
Since we received a promotional review copy and not the fully released DVD, I'm not sure if the extra features will all be the same. But, I really enjoyed the bonus feature about the animal trainers. It was fascinating to learn about how they work with the animals in movies and the thought that goes into actions they have them perform. For example, having the bear twist his head gives him character as he is staring down at Benjamin. I also learned that most retired trained animals end up living the rest of their days with their trainers.
I honestly loved this movie! Here is how much this movie was in my mind the day after we watched it. I watched with my husband and daughter on Saturday night. On Sunday, we hung out with family. One of my nephews was playing a zoo video game, which made me think of the movie again. Then, late Sunday afternoon I took a nap with Rissa. I dreamed about my brother-in-law's family renting a tiger and bearcat for a week. It was bizarre, but I enjoyed hanging out with the tiger – who was very playful, by the way!
Verdict: Buy it! It is a great family movie full of heart and hope. It is not gimmicky, but honest.