I love taco dip. Every party needs taco dip. Not all dips are created equal, but most are quite delicious.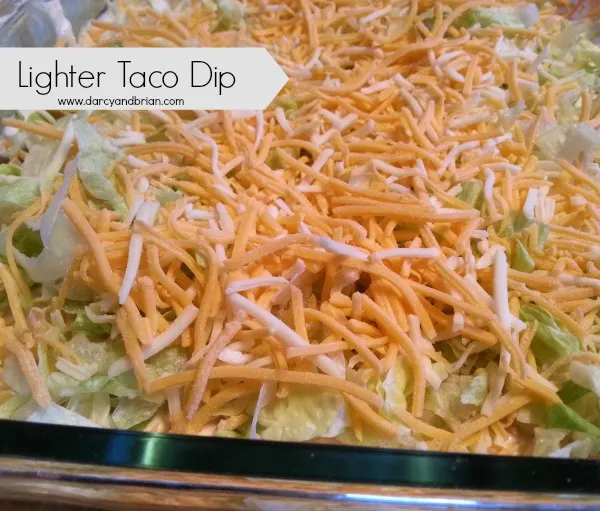 I've even eaten it for lunch before. Nothing else, just taco dip bliss. Most of the time I'll buy a premade one at the store, or indulge in someone else's dish.
For New Year's, I made the classic recipe using cream cheese and sour cream. It was creamy and yummy, but I wanted to try lightening it up a bit.
You know, so I don't feel as guilty about eating it.
I've experimented a little in the past using different seasonings and salsa. But how would it taste with yogurt?
Last weekend we had some friends over. I tried swapping the sour cream with plain, fat-free yogurt. I meant to swap it with plain GREEK yogurt, but that's not what I bought. Oops. Oh well, it still worked and tasted good, but was not as thick as I like it. I don't think anyone noticed though. We hardly had any left over and when I mentioned the yogurt to Brian he said, "There was yogurt in that?" Even Xander liked it! He didn't even bother using the crackers I gave him. He just grabbed fistfuls to eat, haha!
So whether you want to lighten up dip up or don't have enough sour cream left… you can try using plain yogurt!
You may also like trying this other taco dip using cream cheese and salsa.
Lighter Taco Dip Base Recipe
Ingredients:
(2) 8oz blocks of light cream cheese (I used the 1/3 stuff); softened
16oz fat free plain yogurt (I used Stonyfield which is organic)
1/4 cup taco seasoning (adjust to your taste)
Shredded lettuce
2 cups shredded cheese (I used cheddar jack)
Additional optional toppings include diced tomatoes, black olives, green onions – I like these when they are on it but don't usually add them myself
Directions:
Let cream cheese soften to room temperature.
Mix cream cheese and yogurt together. I ended up using my mixer to get rid of all the little cream cheese clumps.
Add seasoning and mix well. Taste test and add more seasoning as needed for your preference.
Cover with lettuce, cheese and any other toppings.
Chill in fridge until ready to serve.
Grab some chips and enjoy!
What are your favorite taco dip toppings?