Monsters Inc 3D will be in theaters starting December 19th! I probably won't be able to go (big bummer) but I'll be sure to rewatch it at home during that time with my own little Boo (and her new baby brother). If you get a chance to go check it out, please let me know how it was in 3D!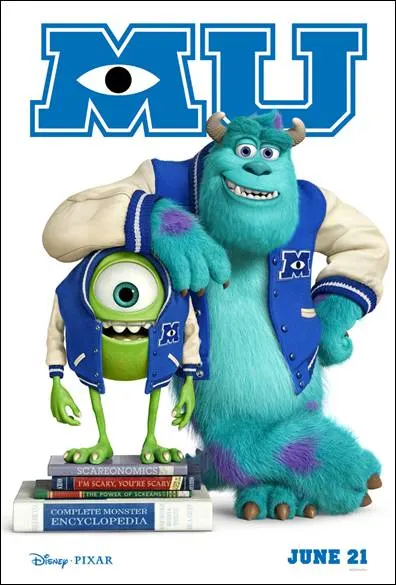 Here's a new poster for the next Monsters movie (which is a prequel, not a sequel). Now I'm pretty excited for Monsters University which is coming out next June. It looks like it'll be pretty funny with plenty of subtle college humor layered in. I'm curious to see how Sulley and Mike were back then and how they ended up being best buds!
Synopsis:
Mike Wazowski and James P. Sullivan are an inseparable pair, but that wasn't always the case. From the moment these two mismatched monsters met they couldn't stand each other. "Monsters University" unlocks the door to how Mike and Sulley overcame their differences and became the best of friends.
Screaming with laughter and fun, "Monsters University" is directed by Dan Scanlon ("Cars," "Mater and the Ghostlight," "Tracy") and produced by Kori Rae ("Up," "The Incredibles," "Monsters, Inc."). The film opens in U.S. theaters on June 21, 2013, and will be shown in Disney Digital 3D™ in select theaters.
Fun facts:
"Monsters, Inc.," originally released on November 2, 2001, was nominated for four Oscars®: Best Animated Feature Film, Best Original Score, Best Sound Editing and Best Original Song—"If I Didn't Have You," for which it won.
"Monsters University" will hit U.S. theaters nearly 12 years after the "Monsters, Inc." theatrical debut.
Billy Crystal and John Goodman reprise their roles in the prequel as the wise-cracking Mike Wazowski and lovable Sulley.
"Monsters University" features a host of new faces and a few returning favorites from "Monsters, Inc."
Like MONSTERS UNIVERSITY on Facebook at http://www.facebook.com/PixarMonstersUniversity
MONSTERS UNIVERSITY arrives in theatres everywhere on June 21, 2013!