This Irish Soda Bread recipe math activity is a guest post from Education.com, which features a variety of educational activities for kids.
St. Patrick's Day is well on its way, and if you're looking for a way to celebrate with your family (minus the green beer!), an Irish feast could be just the ticket. Even if you don't have your corned beef and cabbage ready to go, a few loaves of some simple but delicious Irish soda bread are all you need to get into the spirit of things. Recipes are a great way for kids to learn and practice every day math skills. Throw in some lessons about Ireland's soda bread history, and this kid-friendly recipe is sure to be a tasty and educational hit!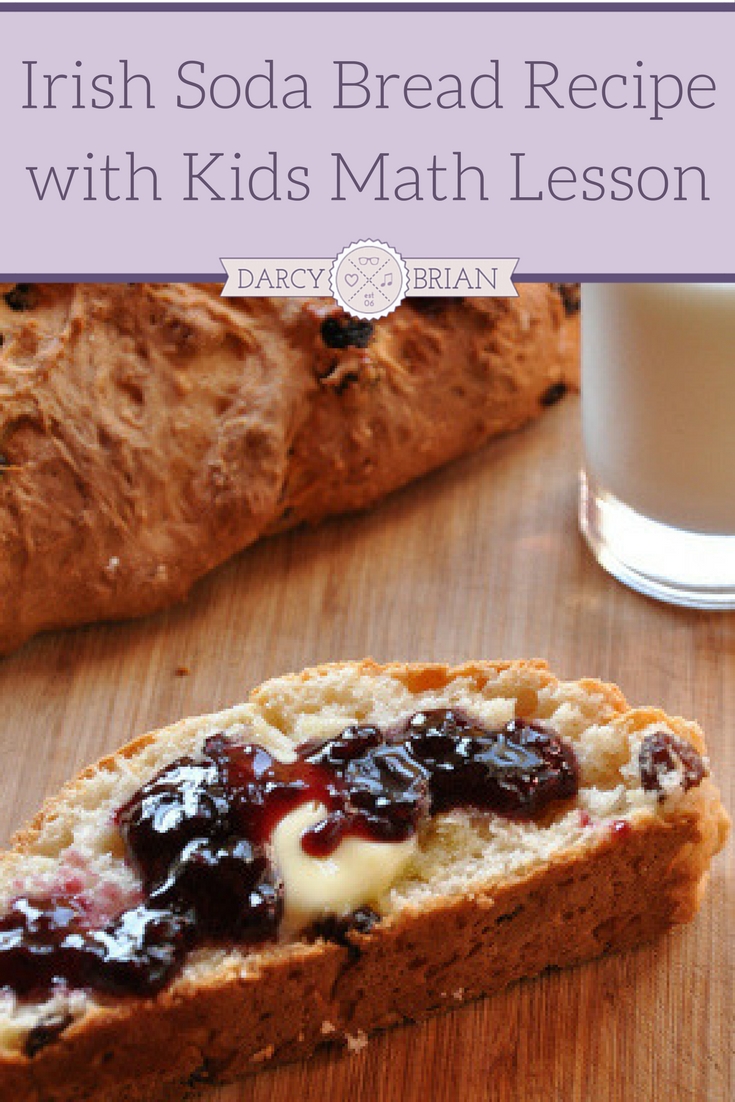 Irish Soda Bread Recipe with Math Lesson for Kids
Kids love the chance to help in the kitchen. Baking Irish Soda Bread together teaches children several important skills including measurements, fractions, daily living skills, and how to read a recipe. They will feel pride in creating something delicious to eat too. Let the kids help measure out the ingredients and discuss the different units of measurement. With older children, you may discuss how to double the recipe or cut it in half.
(Makes two loaves)
Ingredients:
5 cups all-purpose flour
1 teaspoon salt
1 teaspoon baking soda
5 teaspoons baking powder
1/2 cup (1 stick) unsalted butter, softened
2 large eggs, beaten slightly
1 1/4 cups black raisins
3/4 cup sugar
1 1/2 to 2 cups regular or low-fat cultured buttermilk


Directions:
Preheat the oven to 375 degrees Fahrenheit.
Mix together the flour, salt, soda, and baking powder in a large bowl.
Unwrap the butter and set aside the wrapper, which you'll use to grease the cookie sheet. Stir the butter into the flour mixture until it is crumbly and the butter is about the size of peas.
Add the eggs, raisins, and sugar to the butter and flour mixture. Stir well until combined. Use your clean hands (they are one of your best tools!) to scoop the dry ingredients from the bottom of the bowl and gently push them into the dough, mixing all of the ingredients together.
Once the mixture is combined, add the buttermilk, a little bit at a time, until the dough is sticky. One person can stir the mixture while the other slowly pours the buttermilk.
Sprinkle flour on the counter or flat surface, and remove the dough to be shaped into rounds.
You will knead the dough ten times. Fold and press, then turn the dough. Repeat this process for a total of ten times. Kneading gives the bread its good texture but it is very important that you don't over-mix the dough.
Cut the dough in half and shape into 2 rounds (or loaves).
Rub the cookie sheet all over with the buttered side of the butter wrapper.
When your loaves are on the sheet, use a floured butter knife to lightly cut into, but not all the way through, the tops of the loaves, in an "X" shape. This is called scoring.
Bake the bread for 45 to 60 minutes until the bread is a nice nutty brown.
Enjoy your Irish Soda Bread with some butter and jam or by itself. This simple recipe is a great beginners recipe for bread making and a fun way to help your child practice their math and measurement skills as they celebrate St. Patrick's Day.
Did You Know?
In the early and mid 1800's, rural Ireland didn't have a strong tradition of yeast bread making. Baking was done in the home and time and supplies were limited. The use of baking soda as a leavening agent was quick, cheap, and effective and it produced a much more consistent result than yeast. It caught on quickly and soda breads soon became a staple of the Irish diet until commercial bread production began to take over. However, today soda breads are still popular in Ireland and many other parts of the world.
More St. Patrick's Day Activities:
Subscribe
Get weekly sanity saving parenting tips, recipes, and kids activities.