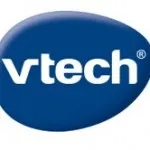 Have you noticed how interactive baby and kid toys are becoming? It's quite fascinating to see what new function and feature is available and how little ones respond. One of the industry leaders in the educational learning systems realm is VTech. They have been developing toys and games for babies through tweens for 30 years. (Wow that's pretty impressive, and makes me feel old…ha!) We have a few VTech toys for Rissa, which she loves to play with. Anything with sound, buttons and lights she likes!
We recently received the opportunity to review the V.Reader, which is designed for children ages 3 to 7. The V.Reader is an interactive ereader for kids that helps them learn to read as well as provides a few activities that they can do with the touch screen. The device comes with one preloaded story. The rest must either be purchased on a cartridge or downloaded onto an expandable memory card (which doesn't come with it). There are a few other activities such as coloring, drawing, and lettering.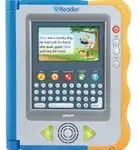 I know Rissa is too young for the V.Reader, but she does enjoy watching the story and poking the buttons. The touch screen is not as sensitive as my phone's and is a bit small, so it felt like I was applying too much pressure until I got used to it. I think this may frustrate some children, but otherwise the stylus (keep out of reach of little ones) is very good at tracking your movements. For the story, we could watch it, which helped make it possible for Rissa to enjoy it on her own. I like how there are highlighted words that can be touched to get a definition. You can also poke around the screen to make the characters do/say things and make other objects interact, fall, etc.
The V.Reader is able to keep track of your child's reading progress as well. When connecting to your computer to download the Learning Navigator and had issues too. Important note hook the V.Reader up to the Learning Navigator as soon as you take it out of the box! This will ensure your has the most up-to-date software, or it could have a lot of issues. I struggled with this first hand and believe me, it is a real pain; however, VTech swapped it out for me (which was greatly appreciated)!
Since Rissa could only poke at it or sit in my lap to watch the story, I was glad my 4 year old nephew showed interest when he came over last week. He picked it up and after I showed him a couple main, important buttons, he played with it and Rissa. He actually stayed pretty occupied for awhile, which was lovely! It's very durable too, despite being thrown on the ground and stepped on (by chilren only!) it is no worse for the wear.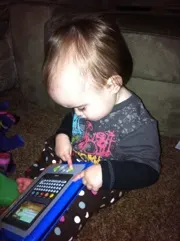 Connect with VTech!
Facebook: http://www.facebook.com/vtechtoys
Twitter: http://twitter.com/#!/vtechtoys
YouTube: http://www.youtube.com/user/VTechToys
Giveaway!
To enter, fill out the Rafflecopter form below. Duplicate entries will be invalid (only the first set counts if you enter more than once). Only required entry is the main one to enter your name and email into the form, the rest are optional.
______
FTC Disclosure: I received the product(s) mentioned above free of charge by the company or PR representative in order to conduct an honest review. I was not compensated in any other way for this post. The thoughts, experiences, and opinions included are entirely my own and may differ from that of others. I am not liable for any issues you may incur from use of said product(s). Images used are owned by me or provided with the company's permission unless otherwise sourced. See full disclosure information. If you have any questions you can contact me or leave a comment.