I've mentioned before that I am trying to work on healthier eating. This used to mean dieting and no dessert to me. Well, that just set me up to fail every.single.time. There's got to be a way to have a healthier cake and eat it too, right?
Apparently there is! Only, when I first heard about cooking with olive oil, I thought that was for cooking chicken in a pan or for coating potatoes to be baked in the oven with some seasoning. So, if you are like me, finding out that olive oil can be used for so much more – including sweets! – is a great find.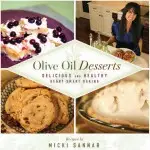 I received the opportunity to review Micki Sannar's cookbook Olive Oil Desserts: Delicious and Healthy Heart Smart Baking. I was definitely intrigued and couldn't wait for it to arrive.
Micki also provided some great information for me to read over while I waited for my copy to arrive:
Baking with olive oil offers people a different approach in making small changes to their diet (or the diet of their loved ones). My healthy desserts usually go virtually undetected by those enjoying them. And let's face it, most people do not want to eat a healthy dessert which tastes like a healthy dessert. It is the little things that add up over time as I have personally dropped my own cholesterol nearly 100 points over 8+ years, simply by switching nearly all of my dietary fat intake to olive oil.

My cookbook is not designed to be a low fat, low sugar, or wheat free choice, but rather an alternative to the unhealthy fat which is most always found in dessert baking. Below are a few tips (also listed in my book), which will give you a quick start to baking desserts with olive oil:

· If you know your EVOO well, please use a mild tasting olive oil. If you are unsure about the different blend and tastes of olive oil, a pure olive oil from the grocery store is a great second option. It is less expensive and more refined than EVOO, however it still contains the mono-unsaturated fat which is good for your heart. Personally, I use olive oil from The California Olive Ranch (everyday fresh blend). Some of the Wal-Mart stores across the U.S. sell their EVOO. It is also available online and if you use the code "Micki" you will receive free shipping (and they ship fast!).

· A few recipes call for a "butter extract". This is optional as I have baked my recipes with or without the extract and they still work well. Butter extract is found in craft, cake decorating, and various grocery stores. I have also used the Italian soda syrup (butter rum flavor), and it works beautifully.

· If you choose to bake with whole wheat flour, be sure to use whole wheat pastry flour. Whole wheat pastry a different type of flour than that which is used for baking bread. Whole wheat pastry flour is available at most health food stores and some grocery stores. Bob's Red Mill has a whole wheat pastry flour which works well.

· Substitutions for eggs and dairy are listed in the back of the book should you choose to go vegan.
I've now become very interested in the health benefits of olive oil. Substituting it for butter seems like a pretty simple change that can have a real impact. There are other tips and information included in the cookbook too. Recipes that can substitute whole wheat pastry flour in place of regular flour are also marked.
When my copy arrived, the first thing I did was flip through the scrumptious color photos of cookies, cakes, and bars. They didn't look healthy. As delicious as they looked, I still didn't know how they'd taste. I also didn't know where to start – I wanted to try so many of them! Finally, I decided to make crispy rice treats first.
(I substituted regular mini-marshmallows for the colorful fruity ones)
Overall, this cookbook is great. The photos are wonderful, the recipes are easy to follow, and there is good information about the health benefits of using olive oil. Besides the standard terminology definitions, there's information about the different types of olive oil too. (I never realized there were variations, so this was good to know.) As well as substitution exchanges and other tips.
I can't wait to bake more goodies from this dessert cookbook! And no, I didn't notice a difference in the taste and neither did my hubby. Now that's dessert I can eat without the guilt!
Want to get your own copy?
This cookbook is available at fine booksellers nationwide. You can also find it on Amazon. (ARV $24.95)
____
** FTC Disclosure: I received the product(s) mentioned above free of charge by the company or PR representative in order to conduct an honest review. I was not compensated in any other way for this post. The thoughts, experiences, and opinions included are entirely my own and may differ from that of others. I am not liable for any issues you may incur from use of said product(s).